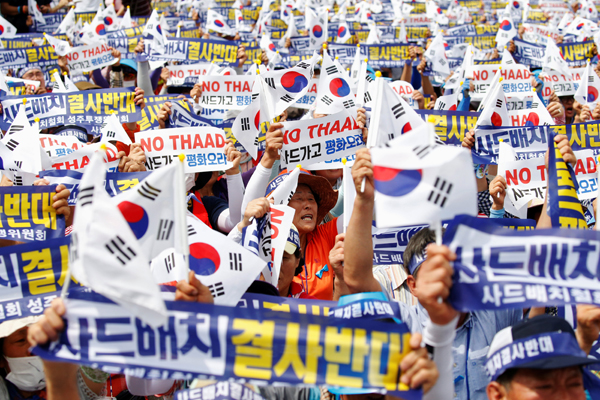 File photo shows Seoungju residents chant slogans during a protest against the government's decision on deploying a US THAAD anti-missile defense unit in Seongju, in Seoul, South Korea, July 21, 2016. The banner reads "Desperately oppose deploying THAAD". [Photo/Agencies]
Figures from the Republic of Korea show that about 250,000 Chinese tourists visited the ROK during the just-concluded National Day holiday and some commercial centers and duty-free shops in Seoul witnessed 20-40 percent increases in their sales year-on-year, Global Times Chinese edition commented on Sunday:
It comes as no surprise at all that many Chinese people traveled to the ROK to shop during the week-long holiday. But such a shopping spree has sparked grievances among some Chinese at home, with some complaining Chinese tourists are helping to save the teetering ROK economy. Such complaints became fiercer after the media reported that some Chinese tourists were declined access to Jeju Island and even kept inside a "black room" at the airport.
At a time when China's relations with the ROK are strained following Seoul's planned deployment of the United States' Terminal High Altitude Area Defense system, which will pose a threat to China's vital interests, it is understandable for some Chinese to hope their country is not too closely tied to the ROK economically.
If the ROK government obstinately insists on sticking to the road of THAAD's deployment, the Chinese government is expected to take corresponding countermeasures. However, a cautious attitude should be adopted when considering extending the countermeasures to bilateral economic and people-to-people exchanges.
For China and the ROK, the good economic momentum they have maintained over the past decades has benefited both peoples. At the time when a chill has emerged in bilateral ties, both countries need to keep sober heads and push forward their hard-won economic and trade ties. The holiday shopping spree by Chinese tourists in the ROK should cause the ROK government to reflect on whether the deployment of the THAAD anti-missile system is really in its own interests.