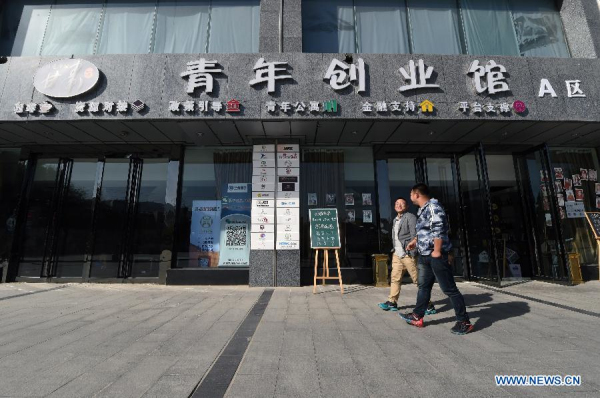 Employees of start-ups walk out of an incubator center in Lanzhou city, capital of Northwest China's Gansu province. Oct 10, 2015. Incubator centers have been set up these years to boost start-ups in Chengguan district of Lanzhou city. Measures including simplifying procedures for licenses application and earmarking subsidiaries have been implemented to reduce the operation cost for the companies in these centers. Up to now, about 30 incubator centers have fostered more than 1000 start-ups in the sectors encompassing e-commercial, bio-pharmaceutical, cultural and creative and internet plus industries. [Photo/Xinhua]
Since the Chinese government is encouraging mass entrepreneurship and innovation, many college students have made innovative undertakings their goal.
As the development of internet and communication technology have remarkably reduced the threshold and cost of entrepreneurship, small startups are mushrooming. There are quite a few remarkable examples of successful startups. In this Internet Plus era, it is not uncommon to see media reports on young people becoming millionaires within a short time because of just a wonderful idea, which inspire college students to chase their dreams through startups.
Besides, authorities at all levels have taken measures to encourage and support college students to start innovative businesses. The measures include providing startup training and startup funds, offering tax benefits and establishing training centers for college students interested in starting innovative ventures.
Some colleges are even encouraging promising students to take a break from studies to start up their own businesses. As a result, an increasing number of college students are getting into startups instead of seeking employment in a company after or even before completing their studies.
Innovation, undoubtedly, is good for economic and social progress. But it may not be wise to encourage all college students to try their hand at startups. Whether a college student should start up his or her own business should be decided by his or her business acumen and understanding of the business world.
Nobody can predict whether a startup will succeed or fail. But instead of only trying to cash in on the craze for innovative undertakings, college students should also understand the inherent risks. Young people have many advantages when it comes to startups; they have more passion and enthusiasm than older people. They also have disadvantages, though, such as lack of financial support and sufficient social and management experience.
As the founder of famous educational institution XDF.cn, Yu Minhong is quite familiar with college students. To most people's surprise, he said recently that he is not only against inexperienced college students taking up innovative programs, but also hasn't invested in any such undertaking. Yu probably believes college students, in general, lack social and management experience.
Yu may be right, for the success rate of college students' undertaking innovative programs is probably very low, although no official data are available on the subject.
This does not discourage people from launching startups, especially since they can realize high rates of returns. College students, nevertheless, should prepare themselves in every possible way before starting up their own business.
They should be sure that they have the necessary capacity and capability to run a business before jumping into the fray. More importantly, they should ask themselves whether they can accept failure, which is a big possibility.
Despite being adults, many college students are supported by their parents and may not have earned a single penny on their own.
Moreover, since college education is not compulsory education and is mainly paid for by their parents, students should regard it as an investment which demands returns. And for those college students who also get the money for startups from their parents, they should understand that their failure will not only hurt them, but also affect their parents, both financially and mentally.
No matter whether they can be successful or not in the long run, college students should act responsibly and seek their elders' advice before venturing into startups.
The author is a writer with China Daily.
wangyiqing@chinadaily.com.cn