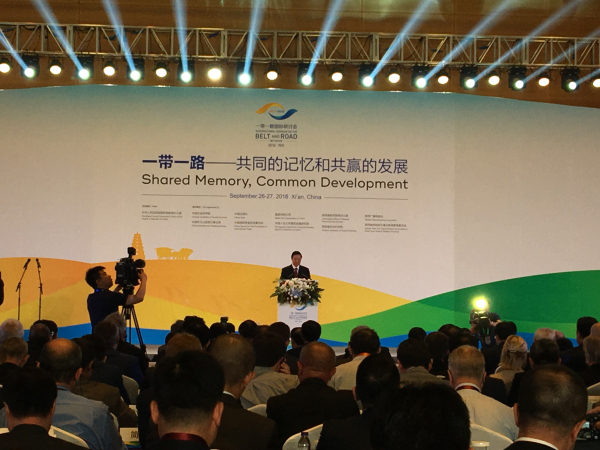 Liu Qibao, Head of the Publicity Department of the Communist Party of China, delivered a keynote speech at the opening ceremony.[Photo provided to chinadaily.com.cn]
Five major goals, outstanding progress
Policy coordination plays a critical role in supporting the BRI. China has been building policy coordination mechanism at various levels with countries along the "Belt and Road" over the past three years. By the end of June 2016, China had issued joint proposals and statements with 56 countries and regional organizations on bilateral cooperation for implementing the BRI and signed the relevant MoUs or agreements accordingly. Between September 2013 and August 2016, President Xi visited 37 countries (18 in Asia, 9 in Europe, 3 in Africa, 4 in Latin America and 3 in Oceania), where he officially promoted the idea of building the "Belt and Road" as a cooperation initiative and received warm response from concerned countries.
Facilities connectivity has been identified as one of the priorities for the BRI. Between the time the BRI was put forward by President Xi in 2013 and June 30, 2016 large state-owned enterprises such as China Railway Group Limited and China Communications Construction Company Limited signed construction contracts for 38 large demonstration projects of transport infrastructure, covering 26 countries and focusing on key routes, port cooperation and the improvement of infrastructure in developing countries.
China's state-owned enterprises participated in the construction of 40 overseas energy projects, including power plants, electricity transmission facilities and oil and gas pipelines, covering 19 countries along the "Belt and Road". Chinese telecommunication service providers such as China Unicom, China Telecom and China Mobile are speeding up cross-border transmission projects in countries along the "Belt and Road" to expand international telecommunication infrastructure.
Unimpeded trade is a very important part in building the "Belt and Road". Over the past three years, China and the "Belt and Road" countries have been working together to facilitate trade and investment activities. From June 2013 to June 2016, China recorded US$3.1 trillion worth of commodity trade along the "Belt and Road", which account for 26 percent of its total trade volume. As of June 30, 2016, China had invested US$51.1 billion in total in these countries, accounting for 12% of China's overseas direct investment over the same period, and had launched 52 trade and economic cooperation zones in 18 countries along the "Belt and Road", with a total investment of US$15.6 billion.
Financial integration is an important underpinning for the successful implementation of the BRI. By June 30th, 2016, China Development Bank had set up an "Belt and Road" project pool involving over 900 projects from over 60 countries in transportation, energy, resources and others sectors. The Export-Import Bank of China holds an outstanding balance of over 1,000 projects involving roads, railways, ports, power resources, pipelines, communication, and industrial parks in the 49 countries along the "Belt and Road". The Export-Import Bank of China also recently signed over 500 projects. In addition, the use of RMB has been expanding in cross-border trade and investment. By June 30, 2016, cross-border RMB settlements between China and countries and regions along the "Belt and Road" had exceeded 2.63 trillion yuan.
People-to-people communication provides public support for implementing the BRI. Since the launch of the initiative three years ago, China has been, by upholding the spirit of friendly cooperation of the Silk Road, energetically developing cooperation on culture and education, tourism, health care and medical service, science and technology as well as exchanges among youths, political parties, governments and non-governmental individuals and organizations in countries and regions along the "Belt and Road", thus winning public support for the implementation of the BRI.