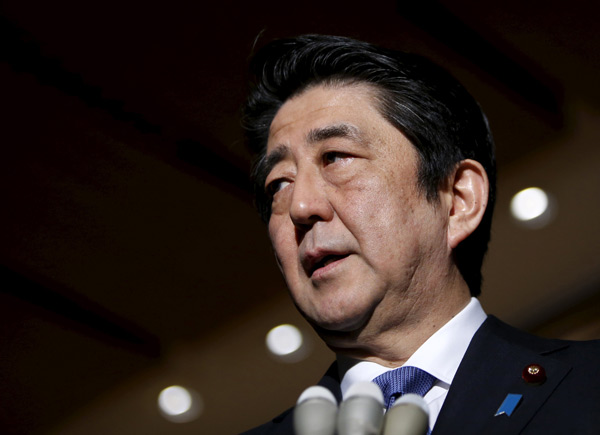 Japan's Prime Minister Shinzo Abe speaks to reporters at Abe's official residence in Tokyo, Japan, January 28, 2016.[Photo/Agencies]
China and Japan should have got along well given that their trade relations are largely complementary and hugely beneficial for both sides. Geographic proximity, too, is supposed to make them good partners.
China and Japan are very important trade partners. But mutual distrust between them has run deep over the past decade, when both have undergone considerable changes.
Two recent polls in China and Japan shed light on the views of their peoples about each other. Their findings are alarming and thought-provoking.
According to a Pew Research Center survey of 7,618 people in China, Japan, South Korea and India in April and May, only 11 percent of the Japanese respondents have a favorable opinion of China, while 14 percent of the Chinese have the same view of Japan.
People in the two countries have been developing negative stereotypes about each other since 2006. About 80 percent of Japanese describe the Chinese as arrogant, while 70 percent of Chinese see the Japanese in that light.
Despite the negative stereotypes, however, a survey jointly conducted by the China International Publishing Group and Japanese think tank Genron NPO in August and September showed that more than 60 percent of the respondents in the two countries deem people-to-people exchanges important for improving relations.
A record 4.99 million Chinese visited Japan in 2015; the figure has already crossed 3 million this year and the weeklong National Day holiday may see a huge flow of Chinese tourists into Japan. In contrast, about 2.5 million Japanese visited China last year.
No longer are Chinese shoppers just buying made-in-Japan products in bulk, they are also spending huge amounts on Japanese cultural products or to learn the nuances of Japanese culture, such as trying kimono and partaking in tea ceremonies. And most Chinese visitors leave Japan with a positive impression of the country and its people.
A visit to Japan opens Chinese tourists' mind to the country's culture, cuisine and history, and helps improve their understanding of its people. Slightly more than 13 percent of the Chinese respondents in 2016 had visited Japan, compared with only 1.3 percent in 2005. And 58.8 percent of the Chinese respondents who had visited Japan had a favorable opinion of their Asian neighbor.
The figures drive home the message that simple exchanges help change perceptions.
The joint poll also shows that a striking 60 percent of Chinese respondents and 30 percent of their Japanese counterparts said that there would be a military conflict between the two countries at some point in the future.
The only way to avoid this is to genuinely increase people-to-people exchanges. This will help create a solid foundation of mutual trust.
Are public opinions in the two countries shaped by their respective foreign policies or by the people themselves? Public sentiment and its influence on foreign policy has been a matter of debate. We may not have a clear answer, but the two surveys drive home a vital point: there is a need to create an environment for people in both countries to break down barriers.
The two countries have much more to gain from cooperation than from conflict. They should learn to live with each other by shelving their differences, which can be solved later and peacefully. And they can gain by working together in areas of mutual interest and address their differences constructively.
The author is China Daily Tokyo bureau chief.
caihong@chinadaily.com.cn