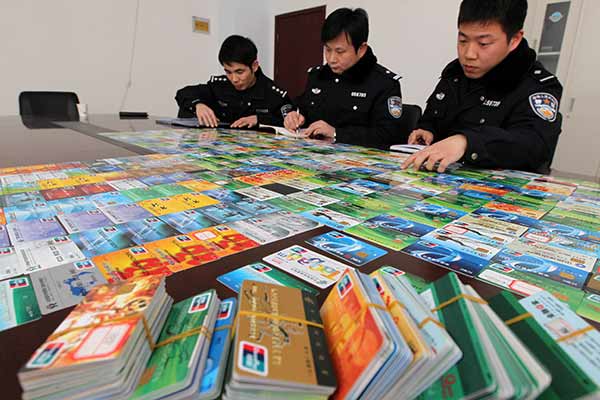 Police officers make a list of bank cards seized in a telecommunication fraud case in Xuchang, Henan province, in January.[Photo by Niu Yuan/China Daily]
The Ministry of Public Security, along with the Supreme People's Court and four other State departments, issued a notice on Sept 23 setting Oct 31 as the deadline for telecom defrauders to surrender to police. Those who confess to their crimes before the deadline might get a lighter penalty, and those who don't will face severe consequences. This is widely seen as a move to end the rampant defrauding of people via phones. Beijing News welcomes the move:
There have been many cases about telecom defrauders, pretending to be public security or judiciary officials, calling people and telling them to transfer money to a certain bank account. Such criminals have not only cheated people of their money but also have been responsible for some deaths-several victims have suffered heart attacks or committed suicide.
The notice will deter defrauders from cheating more people, and is within the legal framework, because there is a provision in law to hand down lighter punishment to those who admit their crimes.
The central authorities have also taken other measures to prevent telecom frauds. For example, as most of the defrauders ask their victims to transfer money via ATMs, the notice specifies: From Dec 1 money transferred via ATMs will not be deposited in the receiver's account until 24 hours later, in order to make it possible for victims to get their money back.
Other measures include requiring telecom service providers to suspend services to the account numbers involved in frauds and strengthen supervision of bank accounts. In other words, telecom companies, police and banks have finally united to end frauds.
When 18-year-old Xu Yuyu from East China's Shandong province suffered a heart attack and died after being defrauded of the money for her college tuition fee this August, the suspects were quickly arrested. Yet many believed police acted so fast and efficiently because her case had drawn national attention.
The notice, however, has raised people's hopes that telecom frauds will be reduced or even ended. Since telecom frauds are not the only threat to people, we also hope the ministry's notice sets an example for fighting other crimes.