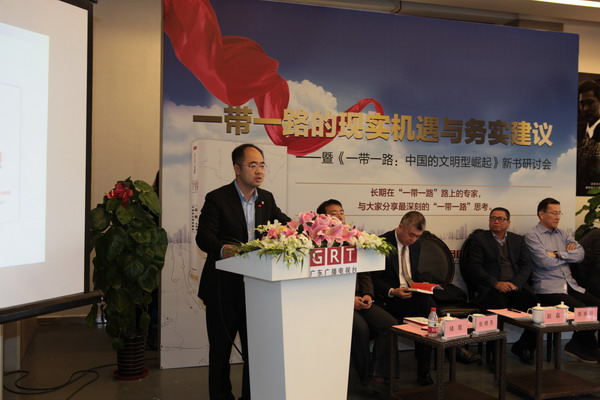 Scholars, entrepreneurs and journalists attend a seminar in Beijing on Tuesday to address the "One Road One Belt" Initiative. [Photo provided to chinadaily.com.cn]
A seminar, focusing on the challenges and opportunities brought about by the "One Belt One Road" Initiative, was held in Beijing on Tuesday.
A book entitled One Belt One Road- Civilizational Rise of China that studies the initiative from a global perspective was issued.
The "One Belt One Road" Initiative, put forward by President Xi Jinping during his overseas visit in the fall of 2013, consists of two main components, namely, the land-based "Silk Road Economic Belt"and oceangoing "Maritime Silk Road".
Zhao Lei, author of the book and a professor from the Institute for International Strategic Studies of the Central Party School of the Communist Party of China, was committed to the researches regarding "One Belt One Road".
"The OBOR is a cultural economic concept that highlights cultural benefits rather than merely centering on large-scale investment. The essence of OBOR is found on the vision of common development, and its goal is the pursuit of mutual benefits through cooperation. In other words, it is not merely China's solo effort it is pursued by all relevant countries. It marks a milestone on China's peaceful rise,"Zhao said.
Zhao also mentioned that since the initiative was put forward, a web of misinterpretations and misunderstandings about OBOR has existed.
"First of all, the OBOR is an open and inclusive network. China not only strengthens the cooperation among countries in the Silk Road region, but also embraces more nations globally including America and Latin America," said Zhao.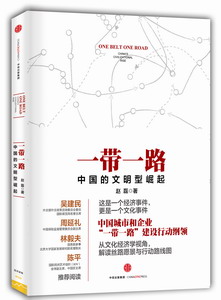 The cover of the book written by Professor Zhao Lei.[Photo provided to chinadaily.com.cn]
"Furthermore, China promotes practical cooperation in all fields, not merely to build an integrated industrial chain of energy and resources, which is not even a priority in the project. We need asset-light projects, for example traditional Chinese medicine, Chinese herbs, and folk custom. Only those bringing economic and cultural benefits simultaneously can be granted a part of the Belt and Road project".
Liang Haiming, an economist from Hong Kong, criticized the rigid book-focused research mode of the OBOR project. "Researchers and entrepreneurs should go out of their offices and have more field trips. Additionally, entry into the world market does not necessarily mean constant profits. The learning curve may be demanding,"he said.
Feng Xi, vice president at the Horizon Research Consultancy Group, claimed that overseas Chinese companies, besides bringing profits and convenience to foreign customers, should leverage "soft power"in the international marketplace and improve China's image so as to gain more respect from institutional investors.
Chu Yin, associate professor at the University of International Studies, suggested Chinese enterprises should boost global trade and play a more important role on the world stage, with more made in China products going global. Chu added that diplomatic agencies and overseas chambers of commerce should enhance the ability of serving and protecting overseas Chinese merchants. Overseas Chinese companies should also share useful information and coordinate efforts to deal with the possible challenges.
"In recent years, domestic drama has drawn wide attention abroad, under the demand-oriented principle, besides traditional Chinese goods, China should pick up the pace of export of mainland TV shows and movies," Chu said.
During the seminar, scholars emphasized connectivity, meaning to connect the government and enterprises together as well as linking China with the world. With the rise of Chinese investment abroad, China should pay more attention to "Culture and Value"in decision-making. The "One Belt One Road"initiative calls for closer policy coordination, financial integration and cultural exchange. We dream of a connective "community with a common destiny,"Zhao concluded.