As China promotes the Belt and Road Initiative, cities long the ancient Silk Road linking ancient China and Europe have become hot spots for investment and tourism. Here are four of the most famous cities on the ancient route in China.
1. Xi'an, Shaanxi province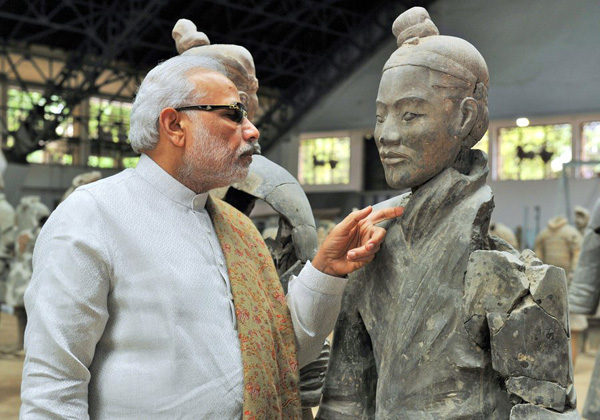 Indian Prime Minister visits a local museum displaying ancient terracotta warriors and horses of the Qin Dynasty in Xi'an of Shaanxi province, the starting point of the ancient Silk Road. [Photo/CFP]
Xi'an, capital of Shaanxi province, is the oldest of the Four Great Ancient Capitals of China. The city was known as Chang'an before the Ming Dynasty (1368-1644). Xi'an is famous for its Terracotta Warriors, which were made in the Qin Dynasty (221-206 BC).
2. Dunhuang, Gansu province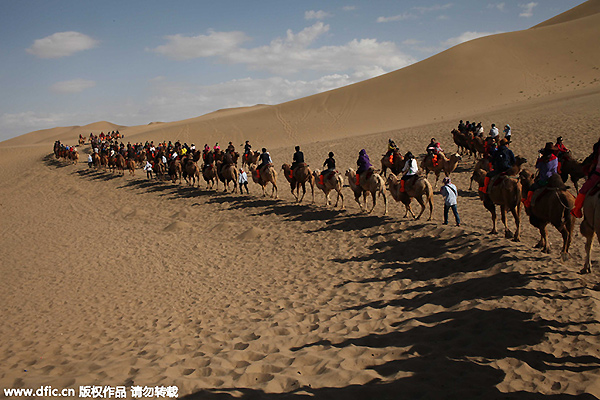 Tourists ride camels in the desert in the Crescent Moon Lake (Yueyaquan) and the Singing Sand Mountains scenic spot in Dunhuang city, Northwest China's Gansu province, October 3, 2012. [Photo/IC]
Dunhuang, a county-level city in Gansu, was a major stop on the ancient route and is best known for the nearby Mogao Caves, a UNESCO World Heritage Site that has 492 cells and cave sanctuaries spanning 1,000 years of Buddhist art.
Visitors are most interested in the Crescent Lake and Mingsha Mountain. The mountain was named after the sound of the wind whipping off the dunes.
3. Kashgar, Xinjiang Uygur autonomous region
Kashgar is the westernmost city in China, bordering Tajikistan and Kyrgyzstan. The city has a rich history of more than 2,000 years and served as a trading post and strategically important city on the Silk Road.
4. Urumqi, Xinjiang Uygur autonomous region
Urumqi, capital of the Xinjiang Uygur autonomous region, was a major hub on the Silk Road during the Tang Dynasty (AD 618-907) and developed its reputation as a leading center of commerce and Islamic culture during the Qing Dynasty (1644-1911). It also has a
leading basketball team competing in China's professional league.
Compiled by Hu Yongqi