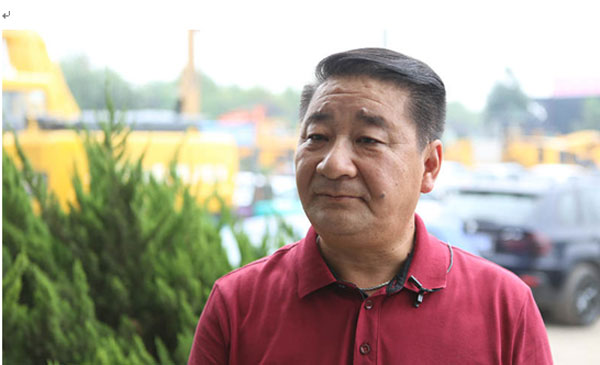 Wan Changqing speaks with reporters, Sept 16, 2015. [Photo by He Chuan/cctv.com]
Two weeks after attending celebrations marking the 70th anniversary of victory in the Chinese War against Japanese Aggression at Tian'anmen Square in Beijing, 53-year-old Wan Changqing still feels exited. Being invited from among 1.3 billion Chinese to watch the military parade was recognition of his contribution to the motherland, he said.
Wan set up his company in the United Arab Emirates (UAE) in 1995 providing machinery for various construction projects. He has earned well during more than 20 years of rapid development of trade between China and the UAE.

His business has expanded to the Middle East, East Africa and North Africa and in 2003 he was elected vice chairman of China's Chamber of Commerce in the UAE. In 2009, he was elected chairman of the Federation of Overseas Chinese in the UAE.
Successful as he is, Wan never stopped missing China. "My family can migrate to any country I want, but I just want to go back to my hometown Shaanxi," he said. "All the money I've made and all the success I've achieved should be used to help my country, my relatives and my friends. I must establish a business in China and pay tax on it."
Starting in 2002, Wan set up several companies in Xi'an, capital of Northwest China's Shaanxi province, business selling and leasing construction machinery, real estate and hotels. But he felt he hadn't discovered where he belonged.

Like Wan, many overseas Chinese, with the capital, techniques and enthusiasm to invest back home, don't have access to a platform for them to get to know China's up-to-date economic development trends and seek investment opportunities.
In September and October 2013, Chinese President Xi Jinping put forward the strategic concept of building the "Silk Road Economic Belt" and "21st Century Maritime Silk Road", known as the Belt and Road Initiative.

In November 2013, the international freight train named the Chang'an began operations in Xi'an. With 44 destinations across Central Asia, it takes the train six days to cover its entire 3,860-kilometer length, cutting transportation costs by 20 percent.

In 2014, the Silk Road Fund was set up to provide investment and financing support to carry out infrastructure, resources, industrial cooperation, financial cooperation and other projects related to connectivity for countries along the "Belt and Road".
The consecutive policies caught Wan's attention. The Chang'an international freight train is a guarantee of logistics, while the Silk Road Fund is a guarantee of capital. Wan realized it's time to roll up his sleeves and pitch in.
On March 15 this year the stone laying ceremony of Xi'an New Silk Road Construction Machinery Exposition Center was held, witnessed by Xi'an municipal and Shaanxi provincial officials. The exhibition center has a total investment of 340 million yuan and covers an area of 69,600 square meters.

It provides a one-stop supply of construction machinery for infrastructure projects. "Whether it's a Chinese company doing projects in Kazakhstan, or a Turkish company doing projects in China, the exhibition center will serve them well," Wan said.
The first phase of construction will be finished in May next year. Famous domestic machinery brands, such as Xuzhou Construction Machinery Group, Sanyi Group and Zoomlion Company, will move in.
While preparing the exhibition center, Wan felt a difference before and after the Belt and Road Initiative came out. Support from the central government for companies has increased and local governments also released preferential policies.

The management committee of Fengdong new town within the Xi'an-Xianyang new district, where the exhibition center is located, has assigned a person to assist with paper work and help solve project related problems.
When Wan went to the UAE for the first time in 1990, there were 1,000 Chinese. Now the number of overseas Chinese there has reached 300,000. Many are industry leaders. As chairman of the Federation of Overseas Chinese in the UAE, Wan knows many members want to invest in China since the Belt and Road Initiative was put forward.

He has been in contact with embassies, consulates and institutions dealing with overseas Chinese on behalf of the federation. Many successful overseas Chinese have returned to visit, looking for investment opportunities.
"I'm confident that my business will prosper under the Belt and Road Initiative and more overseas Chinese will contribute to China's economic development," Wan said.