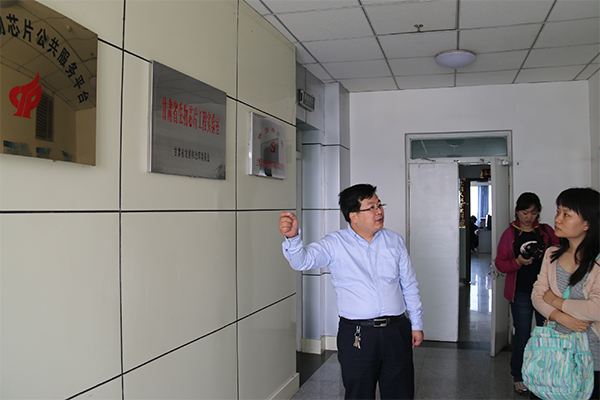 Che Tuanjie introduces his company to reporters, Sept 20, 2015. (Photo by Wang Xueying/cri.cn)
During the 1970s, doctor Zhang Tingdong, who focused on research into blood disease, heard that the poison arsenic, a kind of traditional Chinese medicine (TCM), was used by an old practitioner of TCM to treat cancer in northeast China's Heilongjiang province, and many patients has been cured.
Amazed by the treatment, Zhang took the prescription back to the hospital he worked in and began research with his medical peers.
In 1996, Zhang and Chen Zhu, then head of the Shanghai Institute of Hematology and chairman of the Chinese Peasants' and Workers' Democratic Party, now a vice-chairman of the Standing Committee of the National People's Congress, spoke to the American Society of Hematology.
The subject was an introduction to arsenic as part of a treatment for leukemia and brought the house down. After 1998, the international medical community recognized arsenic's role in treating acute promyelocytic leukemia. Many patients around the world have since benefited from it.
What now makes poisonous TCM accepted by the international medical community is years of study of arsenic and that's exactly what Che Tuanjie wants to do after Chinese President Xi Jinping put forward China's strategic concept of building the "Silk Road Economic Belt" and "21st Century Maritime Silk Road", known as the Belt and Road Initiative, in 2013.
Che set up his company Lanzhou Baiyuan Gene-tech in 2004 after four years' of studying in the US as a visiting scholar. The company, cooperating with medical experts, colleges and hospitals, aims to transform biological medicine techniques into medical products. After more than 10 years hard work, the company has developed gene chips to diagnose the early phase of colon cancer, bladder cancer and endometrial cancer.
On May 7, the General Office of the State Council issued a circular, suggesting TCM be promoted in countries along the Belt & Road. Che believes that TCM is a promising and meaningful field for his company to focus on. He said his company is good at molecular biology research, which is an advantage in TCM mechanism research.
"The reason why foreigners don't understand and accept TCM is that they don't know its mechanism," Che said. "Each western medicine has an instruction, telling patients its components, function, dosage, mechanism and contraindication, but TCM doesn't. I want to be a translator of TCM, finding out the mechanism of TCM from the angle of molecular biology, so that TCM can be exported to more countries and benefit more people".
The company has started cooperation with Gansu University of Chinese Medicine and Che is talking with other companies about cooperation. He is deciding which type of TCM to undergo mechanism research first.
Time means money for a businessman. It has taken more than 20 years for researchers to find out the mechanism of arsenic treating leukemia. No one knows how long it will take Che to find out mechanism for the vast amount of TCM. But he is not a man seeking quick success and instant benefits.
"The biological medicine industry has a high threshold and a long earning cycle. It needs high input and can get high profit," Che said. "But it's also a blue sea market in China. As long as you can find a gap and make breakthrough, you can make profits".
In 2004, Che registered the company with 500,000 yuan, and now assets are more than 40 million yuan. Sales last year totaled more than 4 million yuan. This year sales are expected to exceed 15 million yuan. Che said he and the other shareholders don't take dividends and they put nearly all profits into research and development, because of their confidence in the business.
Under the Belt & Road Initiative, central and local governments will introduce supportive policies for TCM to go abroad. Che is confident that his company can make a contribution and have a bright future.