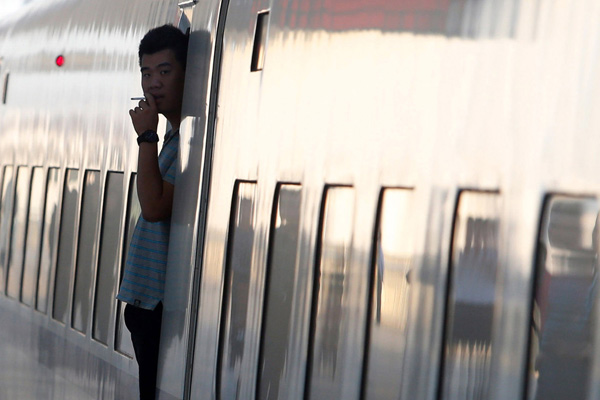 A passenger smokes before a high-speed train leaves the station in Hangzhou, Zhejiang province, Feb 25, 2014. [Photo/IC]
China Railway Group updated its ban on smoking in bullet trains last month and said that those caught smoking might be banned from buying tickets for bullet trains for a certain period of time. However, there are still smoking areas on other trains. The smoking ban should apply to both, said Beijing Youth Daily on Thursday:
China Railway has said that bullet trains are air-tight and have all kinds of sensors that make it easy to detect any smoke, which will trigger the alarm and cause the train to automatically brake. That is not the case with other trains, which have to rely on the staff on the train to stop people from smoking in non-smoking areas.
The company's response is rather honest because it openly admits it does not care about the health of passengers.
The company defended its measure by saying non-bullet trains are passenger-friendly because they have both smoking and non-smoking areas. That is weak defense, because the smoking areas are located in the vestibules and gangways between carriages, only meters away from non-smoking areas; as a result, those in non-smoking areas still suffer from second-hand smoke. Only a total ban on smoking can protect non-smoking passengers on trains.
That dilemma exists not only on trains. Even though most metropolises and municipalities have issued total bans on smoking in public spaces, in practice many restaurants or business complexes have smoking areas from which the smoke easily spreads to other parts of the establishments.
A special law that came into effect in 2011 forbids this, but the law did not make it clear who should enforce the law and who is authorized to punish those violating the law.
China has also signed the World Health Organization's Framework Convention on Tobacco Control, which requires all signatories to ban smoking in public spaces. It is time for not only the railway authorities, but also other departments of the government to join hands and more strictly ban smoking in public spaces.