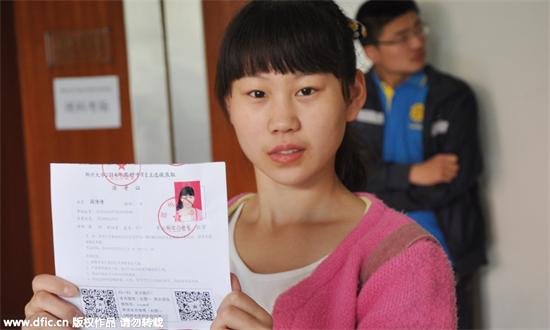 A candidate shows her admission document at an independent recruitment examination only open to rural students. [Photo/IC]
Among the 4,380 students admitted by Peking University this year, more than 700 are from the less developed regions, the highest number in recent years. China Youth Daily commented on Tuesday:
Over the past years, many Chinese universities have stepped up their efforts to grant students from rural areas easier access and favorable enrollment policies. But rural students still find it difficult to enter the top universities, such as Peking University.
After the college entrance examination resumed in 1978, nearly one-third of the students at Peking University were from underdeveloped areas over the following two decades, but the ratio dropped to just 10 percent from 2000 to 2011, rising to less than 20 percent this year.
On the one hand, it is indeed easier for college applicants to pursue higher education these days, thanks to the enrollment expansion of Chinese universities. On the other hand, rural students are losing out in the contest to enter the leading colleges.
Although rural students have more opportunities to enter Peking University, it is also noteworthy that their "fast track" is mainly a result of preferential policies, not better high school and elementary education, or abundant educational resources.
In other words, educational fairness is yet to be achieved as there is still a large gap between the quality of urban and rural education, and this may continue to widen in the years to come if efforts are not made to narrow it.
Offering rural students easier access to top universities, in essence, is more of a compensation deal and unlikely to be a fundamental cure to the unfairness that exists in the education system.