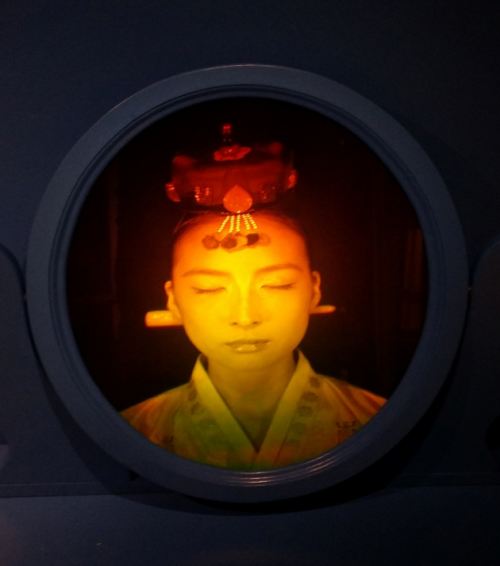 Kim Min Jung , Korean Traditional Dancer, Reflection hologram by pulse laser in 2014.[Juyong Lee/ photo provided to chinadaily.com.cn]
The Korean Cultural Center on Guanghua Lu is one of Beijing's hidden treasures. The caliber of its exhibitions is always highly professional and informative. The must-see current show on offer, "Chunyundang Photo Studio", from Professor and artist Juyong Lee, is no exception.
Chunyundang was founded 110 years ago by the Kyujin Kim, calligraphy teacher to the last Prince of Korea, Young Chin. The exhibition brings alive photographic memories from the Studio's past and with it a blend of the last days of Korea's Choson dynasty (1392-1910) mixing Korean and western concepts of beauty.
The exhibition's theme is longevity. Photography, since its inception nearly two centuries ago, has served to freeze its subject in time and provide an eternal recollection. The exhibition ties together three-culturally related cousins: China, Japan and Korea with a shared interest in longevity and shared symbols such as the crane signifying long life.
This gem of a show at the Korean Cultural Center is not your everyday garden variety exhibition. It features an area reminiscent of the Chunyundang Studio featuring a venerable studio box camera where families can actually make history by having their own portraits made. The exhibition presents a truly unique combination of Professor Lee's collection of daguerreotypes, tintypes, conventional photography and his stunningly lifelike holographic images.
The three-dimensional holograms are eerily alive and have to be seen to be believed. They truly look like the faces of live people trapped behind the glass waiting patiently to step back into the real world. Sadly they never do. But they have a bright future as Professor Lee, who became fascinated with this technology while at grad school in California, believes that within a decade three-dimensional holographic avatars will be commonplace on our screens and in our lives.