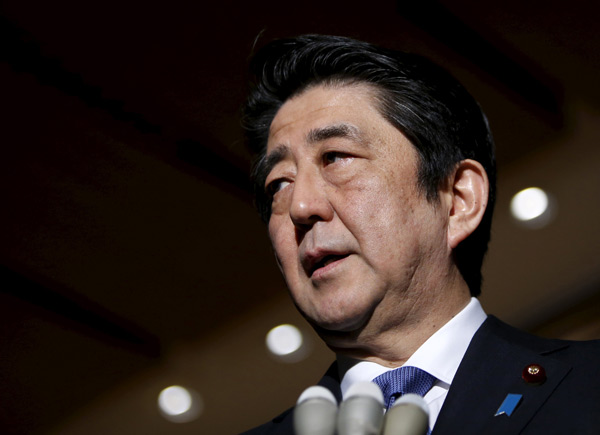 Japan's Prime Minister Shinzo Abe speaks to reporters at Abe's official residence in Tokyo, Japan, January 28, 2016. Japanese Prime Minister Shinzo Abe said on Thursday he wants the new economy minister, Nobuteru Ishihara, to continue the government's efforts to push through structural reforms. [Photo/Agencies]
The victory of the ruling coalition led by Prime Minister Shinzo Abe in Japan's upper house election on Sunday may pose a threat to regional stability, as it could give Abe enough power to put Japan's postwar pacifist Constitution in jeopardy.
The victory is considered more a result of the lack of better choices and the electorate choosing to maintain the status quo, rather than their endorsing Abe's constitutional designs.
But over the past three years, Abe has exploited every opportunity to firmly push forward his political agenda and gradually overturn 70 years of pacifism in Japan despite public protests. Abe has managed to enact controversial security laws, which enable Japan's Self-Defense Forces to fight overseas for the first time since the end of World War II and made it possible for Japan to intervene militarily in regional conflicts.
The Abe administration has also cemented its alliance with the United States and begun meddling in issues that do not directly concern it, such as the disputes in the South China Sea.
As the ruling coalition looks set to secure the two-thirds majority necessary to set in motion Abe's long-cherished ambition to change the Constitution, the path Abe seems determined to embark upon is cause for alarm.
With Japan's pacifist Constitution at stake and Abe's power expanding, it is alarming both for Japan's Asian neighbors and Japan itself, as Japan's militarization will benefit neither.
Japan owes its rapid economic development in the initial decades after World War II partly to its promise of peace. Any deviation from that path may cost Japan heavily both in economic terms and in its relations with its neighbors.
And as Japan becomes more involved in overseas military conflicts, it will become less secure, not safer.