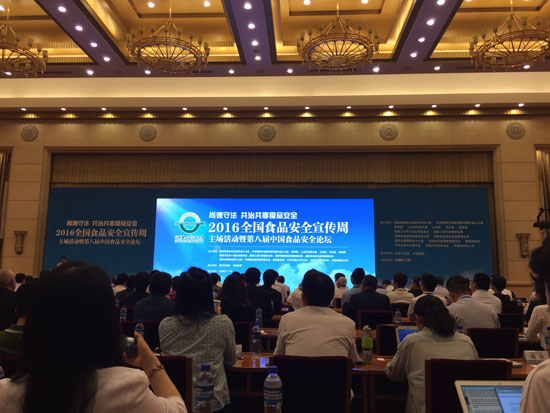 The 2016 China Food Safety Publicity Week and 8th China Food Safety Forum were launched in Beijing on June 14, marking the beginning of this year's food safety publicity week. [Photo/zjgonline.com.cn]
YUE GUOJUN, an academician with the Chinese Academy of Engineering, was recently reported as saying the country now enjoys its best-ever food safety. His words provoked widespread criticism online. Beijing News comments:
It should be emphasized, first of all, that the widely quoted sentence is only part of Yue's comment. He said that currently China enjoys better food safety protection than at any time in history, while adding that China needs to further strengthen its food safety regulations to meet people's expectations. It is unfair to label him a "eulogist".
Although we do not know how Yue reached that conclusion, it is to be expected that the public would not agree with it, because there are still too many food safety scandals.
And it is meaningless to compare the modern era with history in terms of food safety. In earlier days, many Chinese people were simply focused on trying to feed themselves. It is unrealistic to compare our current food safety standards to earlier times.
Comparing the current food safety situation to that in the 1980s and 1990s might be more realistic because the public has been paying more attention to the issue since then. But that's not something to be proud of. On the contrary, if our food safety situation is worsening, that's a serious problem.
Therefore, we should not compare the situation in the country now with how it was in the past. In order to let the public know about our current food safety situation, we should compare our food safety situation with that of other countries, especially developed ones.
For example, when talking about food safety, we should study whether Chinese consumers enjoy the same standards as their counterparts in the United States, or whether some food listed as "unsafe" in one country is labeled "safe" in another. Only when our food safety standards reach those of the developed world can we be proud of our achievement.