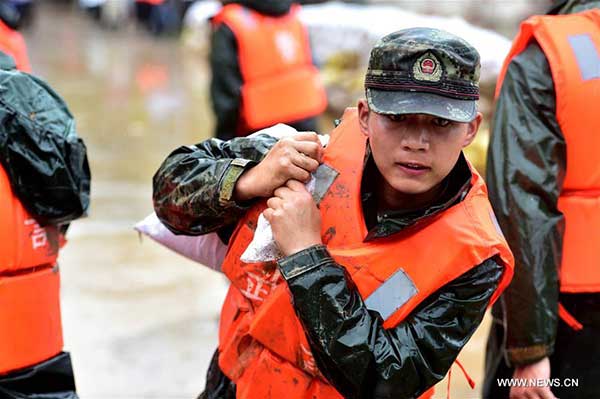 A soldier carries a sandbag to reinforce the Dadao dyke of Baidang Lake in Tanggou Township of Zongyang county, East China's Anhui province, July 6, 2016. Over 260 soldiers were dispatched to reinforce the dyke.[Photo/Xinhua]
Local residents who have suffered losses as a result of heavy rainfall in southern China have to rely on spontaneous mutual assistance, the government's disaster relief support and non-governmental donations to make up for their enormous losses.
These three means of assistance, however, only barely provide flood-stricken residents with their basic needs and fail to compensate residents for the loss of their homes. Besides, such assistance usually puts flood victims in a passive position and it is thus difficult to raise their risk awareness and help them take precautions.
This is in sharp contrast with many developed countries where commercial insurance plays an important role in flood relief. Insurance can help reduce the losses caused by floods through market-based means and change people's dependence on the government's disaster relief aid. While raising the level of disaster relief, such commercial insurance can also push forward the construction of disaster prevention and alleviation facilities.
The United States passed a federal flood insurance law as early as the 1950s. Its National Flood Insurance Program was originally on a voluntary basis, but it gradually turned into a compulsory one to cover all residents in areas prone to flooding. Anyone who refuses to participate in the program will be punished or denied federal assistance when there is a flood. No wonder the NFIP has become the US' second-largest federal insurance program, covering more than 20,000 communities.
Countries such as the United Kingdom, Australia, New Zealand and India have also begun popularizing flood insurance programs.
China is prone to severe floods, and nearly half of its population face flood risks. However, due to institutional problems, flood insurance is still uncommon. It is expected that the flood disaster that is wreaking havoc in some parts of southern China will help lead to the introduction of a flood insurance program in the country.
--Beijing News