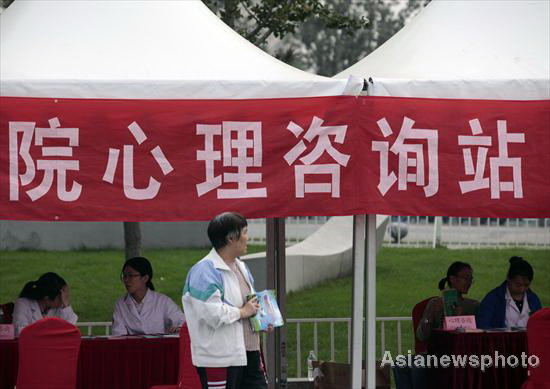 Activities promoting mental health were held in Beijing on the 20th World Mental Health Day on Oct 10, 2011. [Photo/Asianewsphoto]
Depression is a mental condition characterized by a persistent low mood accompanied by feelings of guilt, low self-esteem and loss of interest in normally enjoyable activities. It is a serious and common mental disorder that may lead to suicide in some and entails significant economic and social costs.
China's rapid economic growth, along with growing social and economic pressures, has increased the awareness about depression and the number of people it affects. The World Health Organization estimates 350 million people of all ages suffer from depression. Although reliable data are difficult to obtain, an estimated 26 million people in China are affected by depression. In the United States, according to the National Institute of Mental Health, 16 million adults had at least one major depressive episode in 2012.
In 2009, WHO said mental illness-which affected 7 percent of the population-had overtaken heart disease and cancer as the biggest burden on China's healthcare system. Among its causes are psychological, genetic and biological factors. In addition, long-term substance abuse could lead to or worsen depression.
People who have painful experiences such as unemployment, bereavement and psychological trauma are more likely to develop depression, which in turn could lead to greater stress and dysfunction. This could become a vicious circle, and needs to be broken.
Depression is particularly common among people above 65 years of age, for whom unexplained memory loss, sleep problems or withdrawal may be signs of depression. This is particularly relevant in China, since the number of Chinese people above 65 is expected to rise from about 100 million in 2005 to more than 329 million in 2050, which is more than the combined populations of Germany, Japan, France and Britain.
Increasingly, however, younger people also are being affected by depression, perhaps because of the changing economic and social dynamics. The economic slowdown in China, and the changes on the education and social fronts put increasing stress on the younger generations, and those who cannot cope with it could develop anxiety or depression.
Among adolescents, symptoms of depression include insomnia, fatigue, loss of appetite, lower attention span, apathy and lack of positive expectations. If they show these symptoms for more than two weeks, they are probably suffering from depression.
In some cases, depression can lead to suicide. While in Western countries suicide is more common among men than women, in China it is more common among women, particularly rural women. Unlike in the US, where many men use firearms to commit suicide, rural women in China use strong agricultural pesticides that are kept in the house to take their lives.
Besides, stigma against mental disease-including depression-is still a social problem in China, as well as in most countries around the world. Clinical depression is treatable and, if not addressed, can give rise to serious complications, including suicidal tendency.
So effective treatment that includes psychotherapy and the use of medication should be made readily available to patients, wherever possible. In addition, the use of local health educators who can reach out to rural communities will be an important step in identifying depression among those who do not have access to mental health resources close to home.
The author is a public health consultant for several international organizations.