Depression is still the most misunderstood of illnesses
Updated: 2016-01-11 07:58
By Chang Kwun - Hei(HK Edition)
| | | | | | | | | |
| --- | --- | --- | --- | --- | --- | --- | --- | --- |
|   | | Print | | Mail | | Large Medium  Small | 分享按钮 | 0 |
Nov 11, 2015 - "HKU medical professor found hanging in flat". Oct 29, 2015 - "Pregnant woman with two young children jumps to death in Mong Kok". Sept 14, 2015 - "Mother who battled depression for 10 years " These are some of the newspaper headlines from the past three months in Hong Kong. Undoubtedly they are just the proverbial tip of the iceberg, as many more less dramatic suicides went unreported.
But there seems to be incontrovertible evidence of at least one suicide case per month due to depression. These deaths show a clear link between depression and suicide.
Hong Kong College of Psychiatrists spokesman Chan Lap-kei has said these tragedies highlight the prolonged shortage of psychiatrists in public hospitals. The city is short of around 400 psychiatrists when measured against World Health Organization standards. This acute shortage of mental health professionals at public hospitals is forecast to continue for 20 years. The intake of students to study Master of Science in Clinical Psychology at both the University of Hong Kong and the Chinese University of Hong Kong is limited to 19 students respectively per year. What is the reason for such restrictions on the course when the city is so short of mental health professionals? The only reason I can think of is that we do not fully understand depression and underestimate the negative impact of mental disorders.
"You do not want to go to the toilet, you do not want to make yourself food. It is so terrifying," said one of my patients. "It is not nice to have people thinking that I am a mental case or a failure. You won't understand the feeling. Only someone who has had it knows how paralyzing depression can be. Every day, I have gone through death with this disorder," my patient added.
There is a one-in-four chance that depression will affect you at some stage in your life. It is bad enough to get it, but the stigma can make you feel much worse.
There is a significant number of people who are suffering from depression, yet so many people will feel the need to hide it. Why? It is because of its stigma. People with depression are judged to be weak, or mentally unbalanced. Others have gone so far as to deny the existence of such illness.
For those not able to see depression as an illness, it is important for them to see what is actually happening inside the head. The part of the brain responsible for memory and emotion is the hippocampus. Neuroimaging shows the hippocampi in depressed people behave differently than those in people without the illness. There has been research to show that depression does not only affect how the brain works but actually has an impact on the structure of the brain, and these changes can be seen through brain imaging. The hippocampus is a brain area that has been most recently found to be smaller in people with depression.
Another brain area, the amygdala, is also found to behave differently in depressed people. The amygdala is a tiny area of our brain. Research scientist Catherine Harmer of the Oxford Centre for Brain Research took a sample of depressed people and showed them negative images as she was scanning their brain. Her results show that depressed people's brains exaggerate negative images.
Many experts are already showing evidence that science can detect little changes in the brain in depressed people, and yet there are still many very educated people questioning whether depression actually exists and remaining completely ignorant about its manifestations. Some commentators even described it as a designer illness, using phrases like "depression is the new black". In the past, people with depression were called lunatics. But now, the people who do not recognize depression should be called lunatics.
Depressed people are not crazy, they are just sick with an illness that is mostly controllable, if not curable - but which potentially can lead to tragic consequences if left untreated.
The author is a UK-qualified neuropsychologist with years of experience in treating mental illnesses, including depression.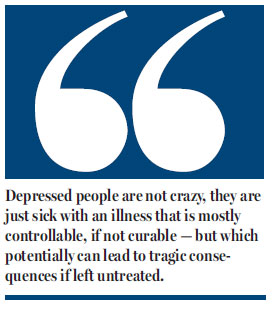 (HK Edition 01/11/2016 page9)