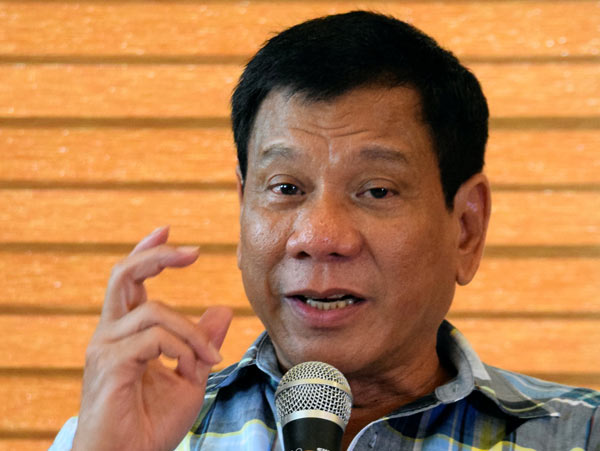 President-elect Rodrigo Duterte speaks during a news conference in his hometown Davao City in southern Philippines, May 16, 2016. [Photo/Agencies]
In his inauguration speech on Thursday, Philippine President Rodrigo Duterte played down his country's South China Sea dispute with China and said he wanted to avoid a head-on conflict.
His words will help ease tensions with China, but the message should be stronger and more unambiguous.
For example, Duterte said the Philippines will hold talks with China only after the ruling made by the arbitration tribunal on July 12 is implemented. And the Philippines Foreign Ministry has said it hopes the international community will help Manila implement the ruling.
With such an ambiguous stance, the Philippines is trying to use international opinion to pressure China into accepting the arbitration ruling, which is expected to go in its favor, while at the same time, also wanting to improve ties with China to boost its economy.
It will be difficult for the Philippines to strike a balance between these two policies.
Meanwhile, the United States has been encouraging the new government in the Philippines to take a tougher stance toward China and turn the South China Sea into an arena for the US' power game with China.
The new Philippine government has shown little appetite to following US orders, however, and the majority of the other members of the Association of Southeast Asian Nations also hold a cautious attitude toward the US' intentions so it will be difficult for it to realize its aims.
As the US is a non-signatory to the UN Convention on the Law of the Sea, it is unreasonable and also detrimental for the US to increasingly expand its presence in the South China Sea and stir up regional turbulence.
Countries in the region should jointly stand up against the interventions of outside forces in regional affairs and their attempts to sabotage regional peace and prosperity in their own interests.
The new Philippine government should send a more explicit signal of its willingness for talks with China on the South China Sea issue to end the meddling of outside forces.
--People's Daily Overseas Edition