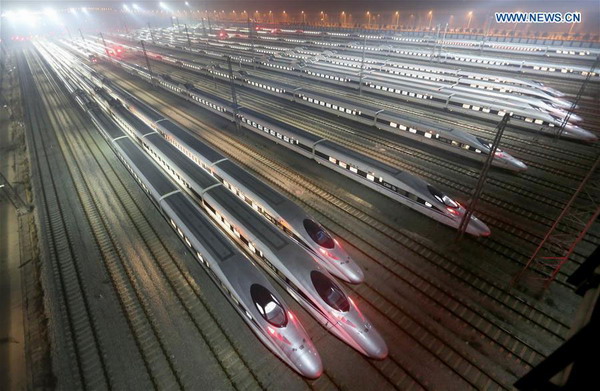 File photo taken on Dec 25, 2012 shows bullet trains which will put into operation on the Beijing-Guangzhou high-speed railway, at a highway-speed train base in Wuhan, capital of Central China's Hubei province. [Photo/Xinhua]
Monday marked the 50th anniversary of the beginning of the "cultural revolution" (1966-76). The Communist Party of China's official newspaper, the People's Daily, said on Tuesday that it was "a mistake... that cannot and will not be allowed to repeat itself". The paper further commented:
China has learned its lessons from the decade of tumult between 1966 and 1976 and is now determined to avoid any social unrest that would disrupt national progress. The "cultural revolution" was a major detour in the development path of the Party and the nation.
Since introducing the reform and opening-up policy more than 30 years ago, the nation has been growing stronger and stronger and people's living standards have been improved markedly.
The historical lessons from the "cultural revolution" must be firmly kept in mind in this context.
The Chinese people have never been so close to realizing the goal of the great rejuvenation of the Chinese nation.
The Party and the public should beware repeating historical mistakes and dispel all disturbances to ensure the goal is achieved.