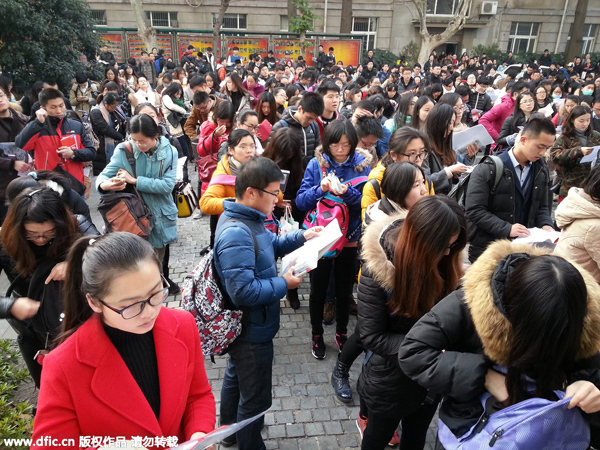 Candidates wait outside the exam hall in Nanjing Forestry University, Jiangsu province, Nov 29, 2015. [Photo/IC]
The civil service exams only finished on Saturday, but an investigation is already underway because the papers were reportedly leaked in many provinces. Beijing Times commented on Tuesday:
It has become habitual for the civil service exam papers to be leaked, which means there is no effective solution to tackle the problem yet.
Aside from an investigation following reports of a leak, the authorities should consider whether there is a strong enough deterrent in place to stop people leaking exam papers. It would seem not.
The frequent leaks of exam papers damage social trust and shake the public's confidence in the credibility of government and executive power. When the air is filled with such doubts, it sparks suspicions.
A frank attitude and a swift and strong response are necessary to sweep away the suspicions.
Now the public security organs need to quickly set the record straight. If the paper leaks are once again verified, then those held responsible should not be limited to a few officials with vague responsibilities.
Do not forget, once an unjust examination happens, it may change the fate of tens of thousands of young people.