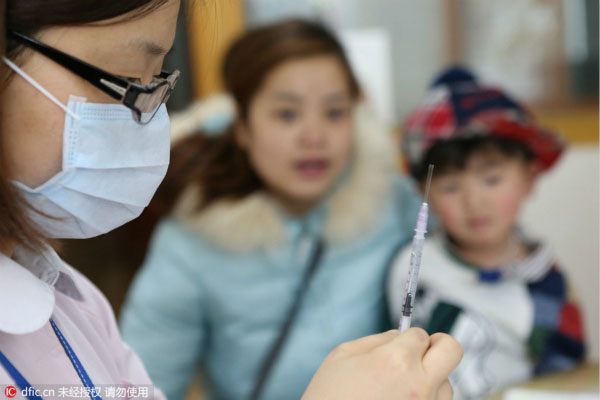 A Chinese medical worker prepares to vaccinate a young kid at a hospital in Shanghai, China, March 20, 2016. [Photo/IC]
Chief government officials should resign if there are serious violations of the vaccine regulations in their jurisdictions, according to a revised regulation approved by the State Council, China's Cabinet, ahead of the National Children's Inoculation Day on Monday. Beijing Youth Daily commented on Tuesday:
The newly revised regulation on the management of vaccines came just a month after an investigation into the vaccine scandal in East China's Shandong province, which involved about 570 million yuan ($88 million) worth of improperly stored Category 2 vaccines that were sold across the country.
It excludes private companies from the procurement of the Category 2 vaccines. In other words, both Category 1 and Category 2 vaccines will be purchased and supervised by provincial governments.
The revision has clearly been made to prevent another scandal like the one in Shandong that involved an astonishing amount of improperly stored and expired Category 2 vaccines.
True, there are unlikely to be any harmful side effects from the use of improperly stored or expired vaccines, as China's public health authorities and the World Health Organization have explained.
However, it is necessary and praiseworthy for the relevant authorities to significantly enhance the management of vaccines, including their transportation and storage, and double the punishments for those who violate the regulations.
More than 200 people have been detained for their involvement in Shandong's vaccine scandal, and 357 government employees have received punishments such as dismissals and demotions.
Official efforts like these are not overreactions, though, because responsible departments can never be too careful when it comes to the health and well-being of the people.