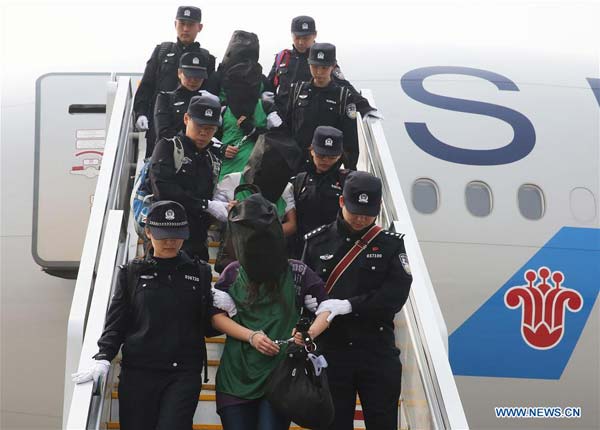 Chinese telecom fraud suspects deported from Kenya get off a plane after arriving at the Beijing Capital International Airport in Beijing, capital of China, April 13, 2016.[Photo/Xinhua]
Following Kenya's recent repatriation of eight Taiwan-born people to the Chinese mainland after their acquittal on telecommunication fraud charges, Taiwan authorities lodged a "solemn protest" to the mainland, demanding it immediately transfer the eight to the island.
Some on the island have accused the mainland of "illegal abduction". However, Taiwan's judiciary admitted that although they were acquitted of the charge of operating an unlicensed telecommunication-related business, the eight people still face fraud charges and the mainland's extradition conforms to international laws.
Any time there is a dispute between the mainland and the island, the island's pro-independence camp seeks to interpret it as the mainland "suppressing" Taiwan, in an attempt to politicize it and fuel "anti-mainland" sentiments on the island.
Yet from the perspective of either territorial jurisdiction or the one-China principle, there can be no dispute concerning the eight people from Taiwan implicated in a fraud against mainland residents. Any "emotional wordings" used to defame the mainland will not help handle the case under proper law.
Since the election of the Democratic Progressive Party to power, pro-independence radical forces on the island have become more active and a series of activities targeted at challenging the one-China principle have been organized. They have also tried to dominate the island's public opinion. But they should know that any provocation will eventually damage their own prospects.
Today's mainland is no longer what it was when former Taiwan leader Chen Shui-ban was in power and any "Taiwan independence" attempt will be more easily countered.
The island should make greater efforts to pursue development and progress, rather than pursue non-existent "national sovereignty".
As far as the latest extradition case is concerned, Taiwan should pursue its settlement based on judicial consultations and cooperation with the mainland.--Global Times