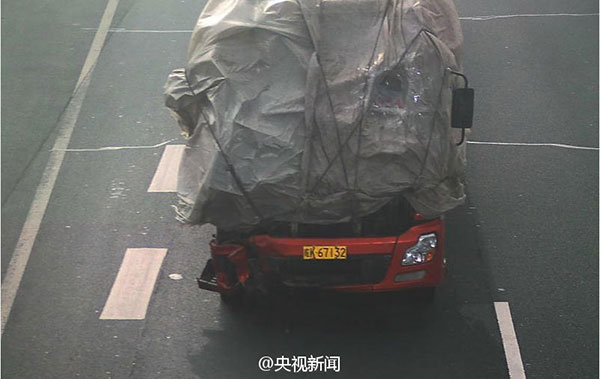 A truck covered in plastic cloth is driven along a highway in Central China's Hubei province. [Photo/Sina Weibo]
A truck driver, who was responsible for a collision with another truck in Beijing, is suing the towing company for charging him nearly 130,000 yuan ($19,000) for moving the damaged trucks, which he claims is exorbitant. Beijing Youth Daily urges better supervision over towing companies and breaking the existing monopoly in the market:
The excessive fee, in essence, is due to the lack of proper supervision, which allows companies to set high prices for such services.
According to relevant regulations issued by the National Development and Reform Commission and the Ministry of Transport, drivers in a traffic accident have the right to choose and commission a third-party rescue company to take care of their troubles.
But in fact, such freedom of choice is seldom protected. A lack of specific regulations and high-quality service providers allows the existing companies to decide arbitrarily how much they will charge. Even worse, some suspect that local government departments or officials are involved in colluding with these companies for gains.
It is time to put an end to such misconduct by introducing private capital into the road rescue sector and cracking down on the interest groups involved. Only when fair and transparent competition is established will the prices of such services be fixed in line with market forces.