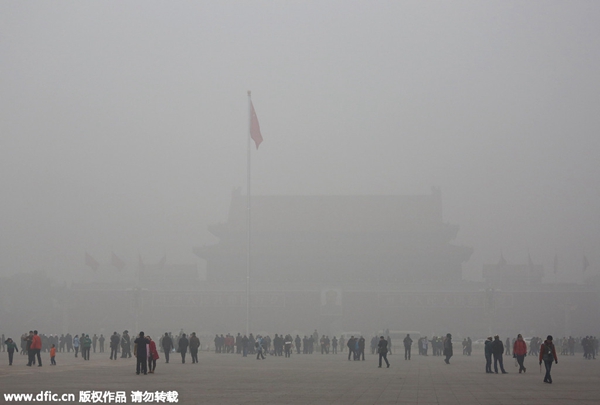 Visitors walk at the Tian'anmen Square amid severe smog in Beijing on Dec 15. [Photo/IC]
THE GOVERNMENT of East China's Shandong province recently issued a regulation that will more heavily reward or punish city governments in the province according to their performance in curbing air pollution. Those cities whose PM2.5 levels exceed the set limit will be fined 400,000 yuan ($61,000), while those with PM2.5 levels below the limit receive a similar amount as reward. Will that help curb air pollution, asks Beijing Times:
The regulation of Shandong province has aroused speculation online. Where does the bonus money come from? What if the bonus is stopped in the future?
More importantly, it is the legal responsibility of local governments to promote air quality, so why do they need a financial incentive to do their duty?
In practice, how to implement the regulation will be a challenge as well. Who will measure the PM2.5 in the air? How to prevent local officials from falsifying the data?
But that does not mean the bonuses and fines should not be used. It might not be the best strategy, but it is definitely one of the most practical at the moment.
The key to fighting air pollution lies in both encouraging and pushing municipal governments to take effective actions, and offering economic benefits is probably the most effective encouragement.
Shandong province has been imposing fines and giving bonuses since last year and this has proved effective. From January to September 2015, the provincial government gave bonuses of 129 million yuan to 17 cities, of which Linyi got 12.85 million yuan. The once heavily polluted city has finally reversed the trend and become the city with the greatest improvement in air quality.
Of course, the province cannot rely on just bonuses and fines to fight air pollution, these should be considered temporary not permanent measures. It is necessary for the provincial government to establish lasting mechanisms to ensure the air quality meets the required standards.
It will be a long process to make our air clean and all innovative measures aimed at doing so should be encouraged. But in the long run, we need lasting measures to ensure the air quality improves.