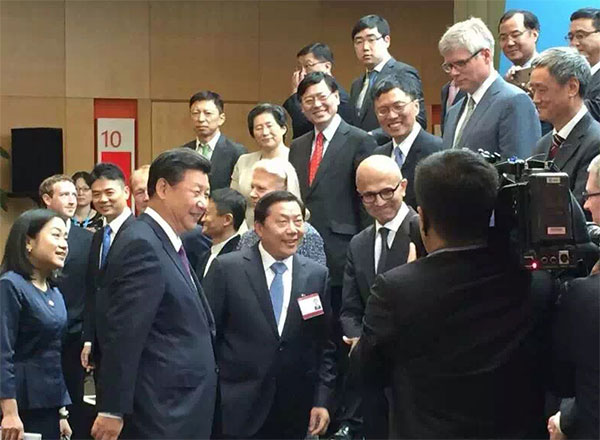 Chinese President Xi Jinping talks with tech executives at 8th US-China Internet Industry Forum in Seattle, Sept 23, 2015. [Photo by Lao Jiang/Provided to chinadaily.com.cn]
President Xi Jinping's picture, taken last September in Seattle, with some of the most influential Chinese and American Internet tycoons is an inspiration to entrepreneurs, particularly those seeking to launch ventures in China. Even in the face of more competition, with 700 million online users in one country, entrepreneurs who launch Internet ventures in the Chinese market have the odds of succeeding in their favor. This week's World Internet Conference from December 16 to 18 is a good occasion to pause and reflect on some of the challenges facing China in this new, innovation-driven phase of its economic development where technology will play a key role. Let's discuss the three questions that remain largely unanswered.
1. Will SMEs take advantage of the Internet+ policy?
The Internet+ policy aims at turning China into the world's leading Internet powerhouse. Local governments, however, will need to design and execute policies to encourage small and medium enterprises (SMEs) to embrace the Internet as the main factor to drive their business's growth. In cities such as Foshan, initiatives like Internet + Finance or Internet + Manufacturing are already in place. These programs are creating new opportunities for traditional businesses. For example, Everstar Clothing, a Shunde-based company, has seen booming business in terms of online sales of its custom-made clothes, as reported by the China Daily. The company has directly benefited from local government policies and, in 2014, it reported over 40,000 online orders. That said, the greatest risk of the Internet economy is that it tends to create market dynamics in which the winner takes all. Just look at what happened with Uber in the US. If SMEs do not surf the Internet+ wave, then the Internet+ policy has not been effective.
2. Will Chinese companies be able to replicate their domestic success globally?
Global success of Chinese Internet companies is not a matter of if, it's a matter of when. While Alibaba is leading the way, Jack Ma's company is just the tip of the iceberg. However, the truth is that the majority of Chinese Internet companies remain unknown for overseas users. This does not mean Chinese Internet businesses cannot thrive in markets away from home. For example, we can see that Tencent's WeChat is much better in terms of functionality and usability than Facebook's Whatsapp. But to become truly global, Chinese Internet companies will have to assemble world-class teams composed of professional from diverse nationalities and cultural backgrounds. Investing in brand building will also be a priority.
3. Is there a place for foreign start-ups in the Chinese Internet industry?
Foreign start-ups are increasingly interested in providing services to Chinese consumers and enterprises. Yet, there are many obstacles in the way – the language barrier still being the biggest obstacle. As part of the "One Belt, One Road policy", the Chinese government should consider developing an Entrepreneurial Silk Road, organizing global business plan competitions and raising the international profile of initiatives like the 1000 talents program. This would greatly support creative foreign professionals working in the Internet industry to redirect their focus to the Chinese market. Professionals like Michael Love, the Harvard graduate who founded Pleco, the leading online Chinese dictionary, are outstanding examples of talented, foreign entrepreneurs who have developed successful Internet businesses revolving around China.
Are there many challenges facing China's Internet industry? Yes. But if you're thinking of launching an Internet business, don't think twice. China is the right place and it's the right time. There are, you could say, 700 million reasons to support your decision.
The author is an investment consultant with the Foshan Bureau of Commerce and a former research scholar in China-Latin America Economic Relations at the Harvard Law School and Tsinghua University.
The opinions expressed here are those of the writer and don't represent views of China Daily website.