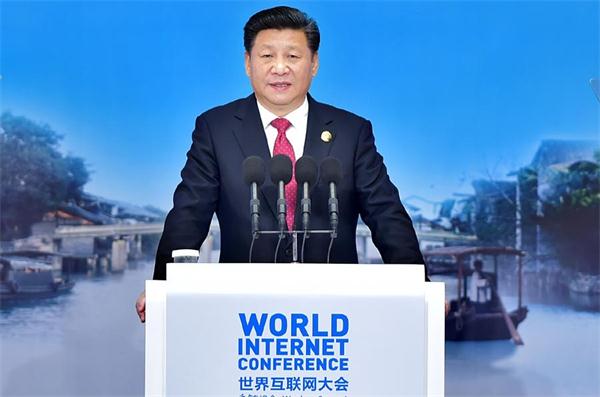 President Xi Jinping delivers a keynote speech at the opening ceremony of the Second World Internet Conference in Wuzhen township, East China's Zhejiang province, Dec 16, 2015. [Photo/Xinhua]
President Xi Jinping loves to talk about a "community of shared destiny", and now he is applying it to cyberspace. This is good news to everyone worried about a potential China-US, or China-West, standoff in the virtual world.
The controversial concept of cyber sovereignty aside, it should be reassuring for them to learn China wants peace in the global public sphere.
For anyone suspicious of Chinese intentions in cyberspace, Xi's show of willingness to engage in constructive interactions with the outside world is an overture worth serious response.
There are plenty of issues on which China disagrees with others. But that does not mean all these gaps are unbridgeable. At least they can create a protocol for peaceful co-existence and prevent the feared "arms race" in cyberspace from materializing.
Since Xi looks toward China and the rest of the world forging a "community of shared future", there should be room for candid dialogue over shared concerns, among which is the freedom-regulation conundrum.
China has taken great pains to strike a balance between these two apparently irreconcilable concerns. But regulators' preoccupation with "order" and "unanimity" has to be reconciled with the open and democratic nature of the Internet.
Xi was correct in stating that, "the essence of the Web lies in interconnection, the value of information lies in interconnectivity". Addressing the "digital gap" is not just about infrastructure. It is also about access.
Xi placed equal emphasis on freedom and order, which was impeccable logic-wise. "We should not only respect netizens' rights to communicate ideas and express their wills, but also build a fine online order, which is conducive to guaranteeing Internet users' legal rights and interests," he said, adding that the Internet is not beyond the law.
Infiltration of harmful information, the recent dissemination of terrorist messages in particular, has put fresh pressure on Internet regulators worldwide, making the balance between freedom and order trickier than ever.
Terrorist threats can be a handy justification for stricter control. But how far should regulators go in compromising constitutional liberties for a purpose like that? This is a question for every country.
The Internet is important for China not just as a virtual platform of e-commerce or any other new business model. An open, robust and healthy cyberspace is of vital significance to the country's thirst for creativity and innovativeness as well.