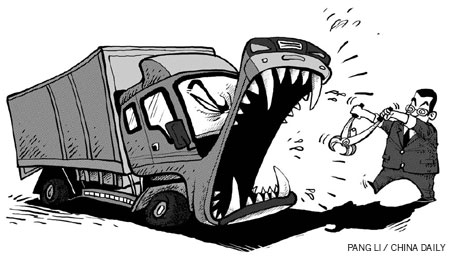 As the number of Chinese people owning private cars is expected to continuously rise as a result of their growing wealth, greater awareness of the traffic rules and stronger enforcement of them are urgently needed to reduce incidents of dangerous driving and road rage.
China is now the world's largest car market, but unfortunately this has failed to result in a corresponding improvement in driving skills and road etiquette among its drivers. More than 17 million cases of road rage have been handled so far this year, the traffic authorities said on Monday, a day before the Fourth National Traffic Safety Day.
Driving angrily has proved a big contributor to frequent road accidents and casualties. In 2013, altogether 80,200 accidents were attributed to anger behind the wheel, a 4.9 percent year-on-year increase and the number rose by 2.4 percent in 2014.
A video was recently posted on the Internet showing a driver in Heilongjiang province, Northeast China, intentionally impeding an ambulance that was responding to an emergency. This sparked intense discussion about the lack of respect for traffic rules among Chinese drivers and their lack of basic road safety awareness.
By the end of October, China had 276 million registered vehicles, 160 million of which are cars, and the number of drivers is 322 million. The growing congestion as a result of increased car use has also led to more drivers violating the traffic regulations.
China has the highest number of road accident fatalities in the world, many of which have been directly attributed to drivers' bad habits and their lack of respect for traffic rules.
The continuing rise in the number of drivers means that greater efforts have to be made to raise drivers' traffic awareness and prompt them to obey traffic rules so as to reduce the number of killers on the road.