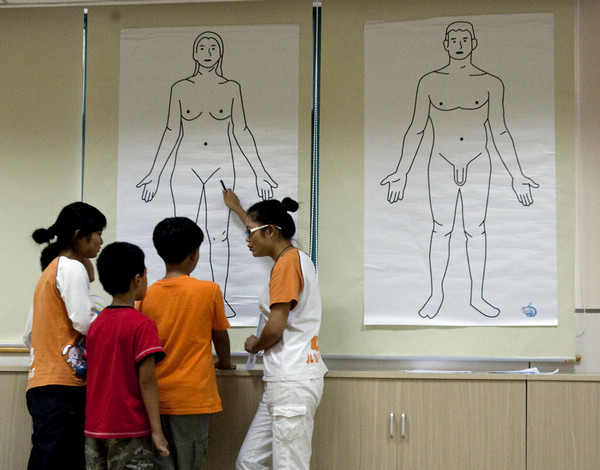 Gao Weiwei (right), a lecturer, talks to students about the human body at a summer camp focusing on sex education. The camp, believed to be the first of its kind in Shanghai, was established in 2009. [Zhang Dong / for China Daily]
The drastic increase in the number of HIV infections among students in China in recent years means urgent efforts are needed to raise their awareness of the virus and the ways it is transmitted.
According to the National Center for AIDS/STD Control and Prevention, the number of annually reported HIV infections among young Chinese students, males in particular, has quadrupled in the past seven years. More than 3,400 students have been reported as HIV-positive this year, compared with 779 in 2008. A majority of these infected students are males aged 18 to 22, and nearly 81 percent contracted the virus through gay sex.
A document issued by the National Health and Family Planning Commission in August also confirmed this worrying tendency and cited the lack of information in campuses and weak self-protection awareness among students as the main reasons for the growing number of infections.
The rapid rise in the number of young students with HIV highlights the urgent need for schools and families, particularly, but also the rest of society, to strengthen the safe sex awareness of young people.
The reserved attitude Chinese people have toward discussing sex has contributed to a lack of proper sex education for young people. This explains why many Chinese students, including well-educated ones, know little about safe sex, as indicated by the large number of abortions among female students, as well as the notable increase in the number of HIV infections.
Given that sex is the main channel for transmission of the virus in China, young students will remain a high-risk group if they do not gain a better awareness of the importance of safe sex.
Chinese society needs to change its previously evasive attitude toward students' sex education and introduce necessary courses on campus to raise students' awareness as early as possible.