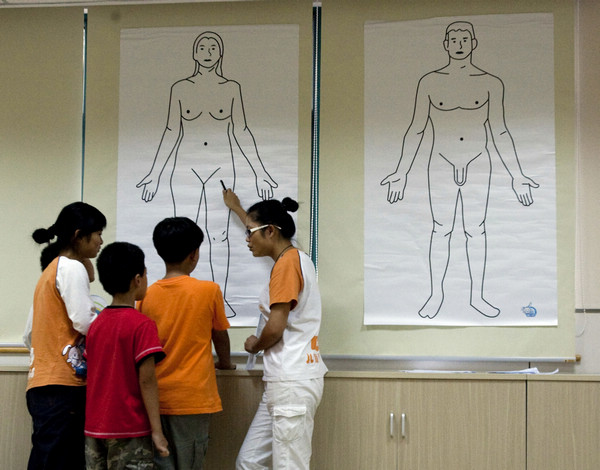 Gao Weiwei (right), a lecturer, talks to students about the human body at a summer camp focusing on sex education. The camp, believed to be the first of its kind in Shanghai, was established in 2009. [Zhang Dong / for China Daily]
A university in Xi'an, Northwest China's Shaanxi province, reportedly initiated an optional course in which all enrolled female students are required to sign a "letter of commitment" to say no to the premarital sex and extramarital affairs. Comments:
True, many tend to believe that there is legal and moral room for improvement when it comes to curbing premarital sex and infidelity after marriage. However, the college should be better aware of the limits on its powers. In other words, it should instill correct marital values in its students through targeted education. It is not only humiliating, but there are no legal grounds for forcing female students to make such a written commitment. The so-called letter of commitment will end up making little difference to those students who take the class.
rednet.cn, Nov 8
In fact, instead of hijacking the female students with some moral code, the university would do better to offer more useful instruction to them, ranging from how to protect themselves from sexual assault and abuse to personal hygiene. The controversial optional course should focus on sex education, not asking the girls to commit to something with no legally binding effect.
Beijing News, Nov 8
The university's sensational and ill-considered promotion of marital values, which include an oath to reject premarital sex and extramarital affairs, is unlikely to work as expected and has received a lot of complaints from students. Given the potential consequences that the almost unavoidable premarital sex may have for students, especially female students, the university should fulfill its responsibility to instruct youngsters in a candid way.
sohu.com, Nov 7