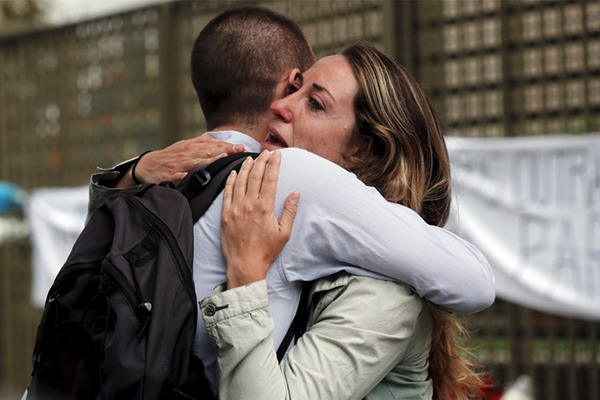 French citizens cry next to tributes offered for victims of the attacks in Paris, outside the French embassy in Bogota, Colombia, November 15, 2015. [Photo/Agencies]
On Nov 18, the French magazine Le Nouvel Observateur (The New Observer) published an article on its website authored by staff writer Ursula Gauthier, which blamed the Chinese government's policies in the Xinjiang Uygur autonomous region for terrorist attacks in China. That's a typical example of the West's double standard, which is hindering global efforts to fight terrorism, says an editorial in the Chinese edition of Global Times:
Gauthier's article claims that Muslim names are forbidden in Xinjiang and ethnic Uygur government staff must eat in public during Ramadan. However, Such claims are refuted by Uygurs as nothing but lies.
After the terrorist attack in Paris on Nov 13 that claimed at least 132 lives, the Chinese government condemned terrorism and expressed its sympathy for the French people. Many Chinese people also expressed their condolences to the victims. Guathier has noticed these because she includes them in her article, but she does not show any sympathy for the victims of the terrorist attacks in China.
It is shocking that she holds such deeply rooted prejudice against China. For her, it seems that every person should serve her politics.
She forgets that people all over the world have the same right to protect themselves from being killed for no reason. For her, it is evil to kill civilians in France, while it is "understandable" to kill civilians in China. She uses a different yardstick when terrorists kill innocent civilians in China.
In her view, only civilians killed by terrorists in the West deserve sympathy, but not the Chinese civilians who suffer the same fate. How ridiculous and absurd such an attitude is.
Being politically radical has so blinded some Western journalists such as Gauthier that they lose their common sense. They only know Western standards of "human rights". For that political purpose they dare to challenge the basic human norm that the killing of innocent civilians is a crime.
That hurts Chinese people. At a time when Chinese media and Chinese people had condemned the Paris attack and extended their support to the French people, it is offensive for the French magazine to publish such an article.
It is time the French media rethink such an ridiculous and unreasonable attitude. The Chinese people are friendly to the French people, who should have no reason to return evil for good. They should join hands in fighting terrorism.