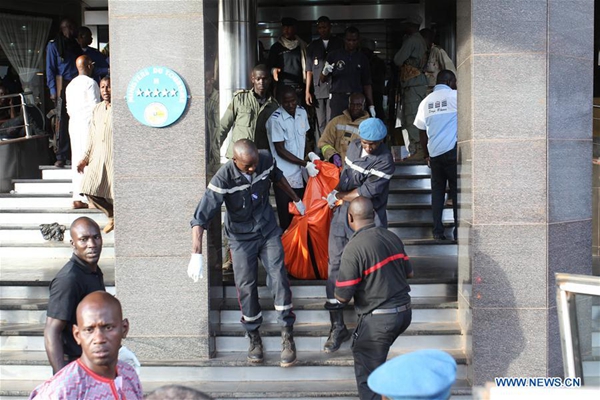 Rescue team members carry out a body of a victim from the Radisson Blu hotel in Bamako, Mali, Nov 20, 2015. [Photo/Xinhua]

Highlights:

** Three Chinese citizens killed, four others rescued

** Malian government declares nationwide state of emergency

** Attack has ended with 27 killed

** Gunmen took 170 people hostage for nearly nine hours
Chinese President Xi Jinping on Saturday condemned the attack at a Mali hotel where 27 people including three Chinese citizens were killed in a hostage situation.

Xi vowed that China would strengthen international anti-terrorism cooperation and demanded all relevant Chinese departments strengthen measures to safeguard the safety and protect Chinese nationals overseas.

"China will strengthen cooperation with the international community, resolutely crack down on violent terrorist operations that devastate innocent lives and safeguard world peace and security," Xi said.
Earlier on Saturday, Foreign Ministry spokesman Hong Lei confirmed three Chinese people were killed and another four Chinese citizens were rescued from the Radisson Blu hotel in Bamako.

Hong said China strongly condemns the attack by the Jihadist Al-Murabitoun group and sent deep condolences to the relatives of the victims.
"After the attack happened, the Chinese Foreign Ministry and the embassy in Mali immediately initiated an emergency response and no efforts were spared in the attempt of rescuing the hostages," said Hong.
The Chinese victims are on a business trip to negotiate cooperative deal with Mali's ministry of transportation, according to the company.

Their names and job titles are: Zhou Tianxiang, general manager of CRIG - Wang Xuanshang, deputy general manager of CRIG - Chang Xuehui, general manager of the Western Africa's subsidiary of CRIG.
Wang Yi, political counselor of the Chinese embassy in Mali, said the rescued Chinese are in stable condition.
China Railway International Group (CRIG) is a subsidiary of China Railway Construction Corporation Limited.
In the statement posted on its official website, the company expressed deep sorrow and sent heartfelt condolences to the families of the casualties and strongly condemned the terrorists' brutality.
Jihadist Al-Murabitoun group based in northern Mali has claimed responsibility for the hotel attack.

The group was also responsible for a shooting attack on a restaurant popular with foreigners in Bamako on March 7 this year, which killed five people and wounded nine others.