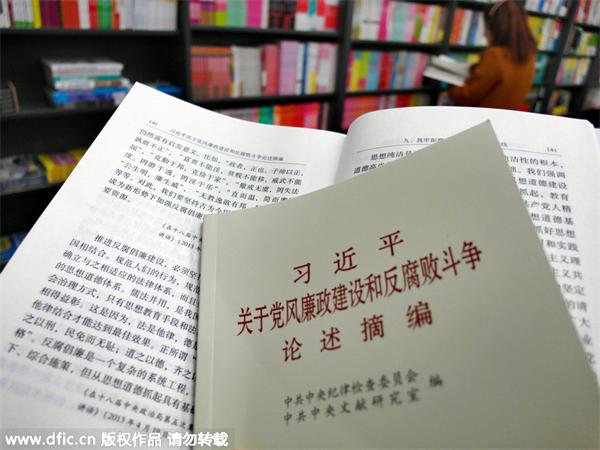 A book about Chinese president Xi Jinping's remarks on anti-corruption.[Photo/IC]
The announcement on Wednesday that Beijing's Deputy Party Secretary Lu Xiwen is under investigation for suspected violations of Party discipline came just a day after the disclosure that Shanghai's Vice-Mayor Ai Baojun is under scrutiny.
There had been speculation about why no high-ranking officials of Beijing or Shanghai municipalities were being investigated. But the announcements about Ai and Lu send a clear message that no official is exempt from the anti-graft campaign, unless he or she is clean.
In fact, more than 70 ministerial or vice-ministerial level officials have either been investigated or indicted for abuse of power since the anti-corruption campaign was launched in 2012. There is now no province, autonomous region or municipality directly under the auspices of the central government where a ministerial-level official has not been either indicted for corruption over the past three years or is under investigation.
And with the Communist Party of China Central Committee intensifying the discipline inspection tours, no doubt more corrupt elements at different levels will be uncovered.
What the anti-graft campaign has achieved is encouraging and has demonstrated the resolve of the central authorities to eliminate corruption within the ruling Party and the government.
Yet, the more corrupt elements that are uncovered and the greater the amounts of illegal assets revealed, the more evident it has become that the fight against corruption will be both difficult and tough.
Elimination of corrupt elements is only the means, not the end. While cracking down upon corrupt elements the graft-busters should also focus on plugging systematic loopholes and strengthening supervision to prevent corruption, so as to build a clean ruling Party and clean government.
Therefore, there will be no end to the anti-graft campaign until officials dare not, do not want and are not able to abuse their power.