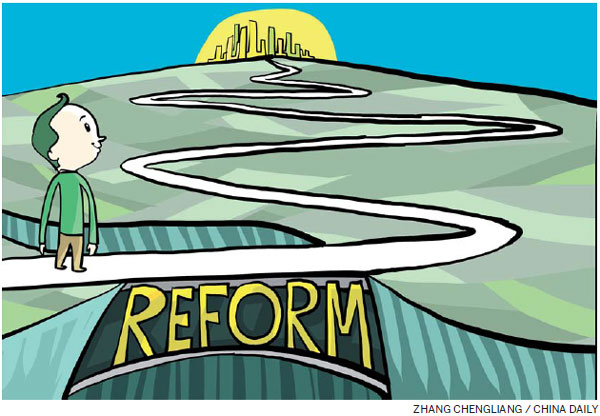 The Fifth Plenary Session of the 18th Central Committee of the Communist Party of China, which opened on Monday, is significant as it is about what the next five years mean to the future of China.
It is significant not just because those at the session will discuss the 13th Five-Year Plan (2016-20) for China's economic development and social progress, but also because there are hard nuts to crack in the next five years if the country is to realize the goal of building a moderately well-off society by 2020.
As Party General Secretary Xi Jinping said in early 2013 when describing the task of reform, the country now has to wade into deep water to continue its reforms; progress will not be made without winning the hard battles involved in tackling the thorniest issues.
Over the next five years, the transformation to an innovation-driven economy must be realized with growth strong enough to sustain employment. Breakthroughs are also needed to ensure the country's ongoing urbanization is harmonious and sustainable.
This means pushing ahead with reform that would allow about 200 million migrant workers to settle in the cities where they work as urban residents in a real sense. Then they would have the right to receive the social benefits they deserve in proportion to their contributions to the cities where they work.
And over the next five years, the heavy environmental cost that has been paid for the rapid growth over the past more than three decades needs to start being repaid; not just by following a more environmental friendly and sustainable development path, but also by attempting to remedy the environmental damage that has already been done.
And despite the emphasis the central government has always placed on rural economic and social development, the vast rural areas remain underdeveloped and a heavy burden to the country's realization of a moderately well-off society by 2020. It would be unimaginable to claim that China's society is better off in general if its vast rural areas are heavily polluted and the left-behind rural villagers are still living in shabby dwellings trying to make ends meet.
The plan for the next five years needs to ensure down-to-earth efforts are mobilized from all walks of life to fulfill these difficult tasks. With such efforts, the problems that have long remained unsolved can be effectively addressed.
This is what we expect of this session.