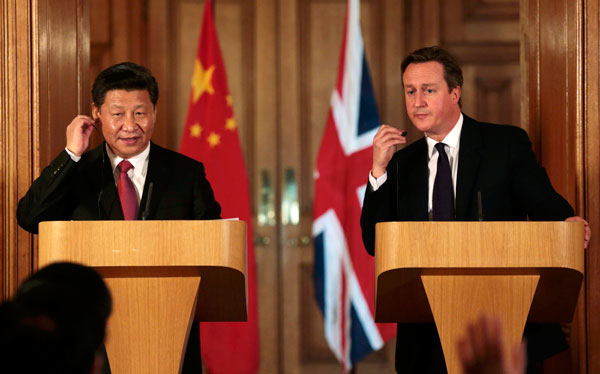 China's President Xi Jinping and Britain's Prime Minister David Cameron attend a joint press conference in 10 Downing Street, in central London, Britain, Oct 21, 2015.[Photo/Agencies]
President Xi Jinping's pledge that China and the United Kingdom will build a "global comprehensive strategic partnership" in the 21st century will bring China-UK relations to a new level and endow their ties with a significance that goes beyond the bilateral scope.
In his talks with British Prime Minister David Cameron on Wednesday, Xi described the upgraded China-UK partnership as opening up a golden era for an enduring, inclusive and win-win relationship that will enable the two sides to jointly create an even brighter future for their relationship.
The noticeable improvement in China-UK ties has been the result of the strong political will from both sides to transcend their differences and shore up mutual respect, reciprocal cooperation and mutual learning.
During Xi's ongoing visit to the UK, the two sides have signed a number of intergovernmental and business deals worth about 40 billion pounds ($62 billion), including an eye-catching agreement that means China will partly finance a UK nuclear plant.
This nuclear project will be China's first in the West, and according to Cameron, it will create thousands of jobs in the UK and provide reliable, affordable energy to nearly 6 million homes when operational.
Such fruitful results show China and the UK are substantiating their cooperation with concrete deals. And as Cameron has said, a strong economic relationship can withstand frank disagreements on some other issues.
With the UK pledging to be China's best partner in the West and China looking to build a golden decade with the UK, the two sides have set a good example in developing ties between a major developing country and a major Western power.
Xi has stressed the open and inclusive nature of the China-UK comprehensive strategic partnership, which means the stronger bond between Beijing and London does not target any existing alliance or partnership the two have forged with other countries.
Under the principle of voluntarism, the partnership can be expanded to include other partners so as to bring benefits to more countries.
The quick reconciliation and warming of bilateral ties would not have been possible if the two sides had not deepened their mutual understanding, built mutual trust and committed to reciprocal and meaningful interaction.
We have every reason to believe China and the UK will continue to build on the current good momentum in their relations, which will not only cater to their interests but also contribute to the common prosperity of the entire world.