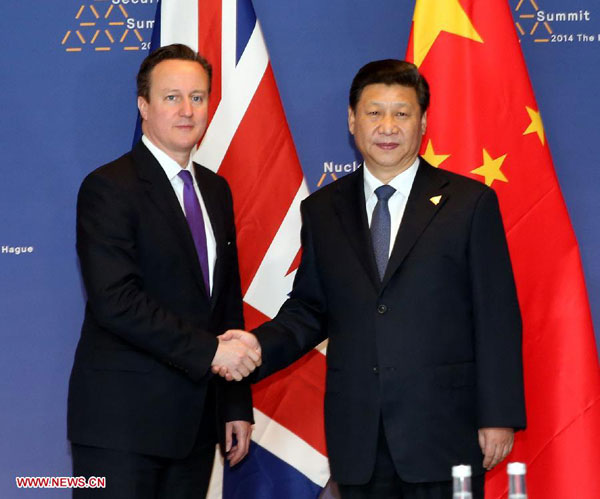 Chinese President Xi Jinping (R) meets with British Prime Minister David Cameron in The Hague, the Netherlands, March 25, 2014.[Photo/Xinhua]
To develop political, business and social relationships between countries is vital to world peace and prosperity. President Xi's visit to United Kingdom will enable serious discussion on issues important to both countries: Trade and investment, AIIB and the Silk Road, terrorism and ISIS, the sharing of expertise and developments in science, technology and education.

Ted Mason
There are those who argue that a country should concentrate on its own problems rather than visiting the "enemy". To them I say keep friends close and enemies closer. To those who are more sensible and liberal in their thinking, I say that developing ties with any country contributes to stability and prosperity, trust and partnership.
Foreign investment brings prosperity to China, which is needed to move this country forward with domestic reform and markets. The more countries sharing China's prosperity, the less it relies on just a few. The infatuation that Chinese people have with America can be reduced in favor of Europe and developing countries in other continents.
Anything leading to greater understanding of another culture enables constructive dialogue and rational decision making. It reduces prejudice and ignorance.
The president's interest in developing team sport, especially soccer, will be an interesting discussion point. China needs the coaching experience of the Football Association and with greater cooperation between China and the UK with regard to team sport, Chinese teams can become successful world players.
In recent years China has begun to show initiative and inventiveness beyond copying and developing, but the UK has a reputation for inventiveness that is often not developed. Further cooperation in science, technology and production would benefit both countries.
I am certain that the UK will welcome President Xi with genuine enthusiasm.