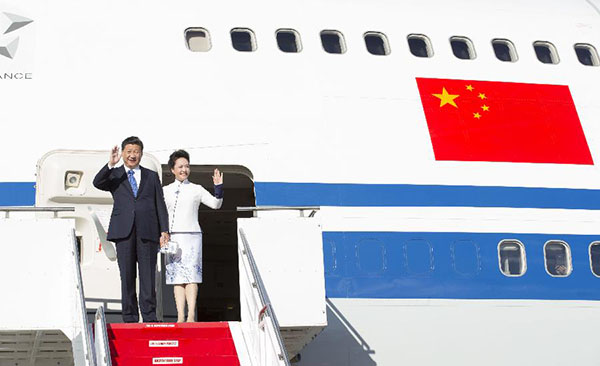 Chinese President Xi Jinping (L) and his wife Peng Liyuan wave upon their arrival in Seattle, the United States, Sept. 22, 2015. Xi arrived in this east Pacific coast city on Tuesday morning for his first state visit to the US. [Photo/Xinhua]
As I read responses published in the Wall Street Journal to specific topics and questions posed to President Xi Jinping regarding his views, intentions and desire for his relationship with America, I am left with one thought.
First, I see in his words the desire to be fair, balanced, firm and pure in what he wants for the world at large, for China and for America. From his well chosen responses, his goal is world peace, progress and prosperity for all. My one thought, maybe more a prayer or a wish is, I hope that America and especially President Barack Obama, has the wisdom to open their hearts and minds to believe and trust Xi's wise words and pure intentions.
The biggest factor that the American government struggles with regarding dealings with China is trust. Of course, I know full well that this is also China's biggest factor with America.
Xi's words from the WSJ interview should be read by every American, both adults and school children. I know that some will say perhaps he is less than sincere and not to be trusted. However, I believe his words are sincere and more so, his actions show it.
His first visit to Seattle sets the tone for the rest of his visit. He is traveling with China's top tech giants such as Jack Ma and Robin Li. It is obvious that Xi wants to face this long held issue of corporate espionage and spying that America has accused China of engaging in. I think to so openly face this issue with the support of China's most influential business and technology leaders is a vivid portrayal of his pure and positive desires regarding this issue.
I love what I read Xi so eloquently said in response to all the issues that involve China and its relationship with the West and to the rest of the world. My one thought is, I hope that America will have the wisdom to seize the opportunity at this time, a very important time in the history of the world, to adopt the same attitude of peace, rational thinking, cooperation, fairness and prosperity for humankind.