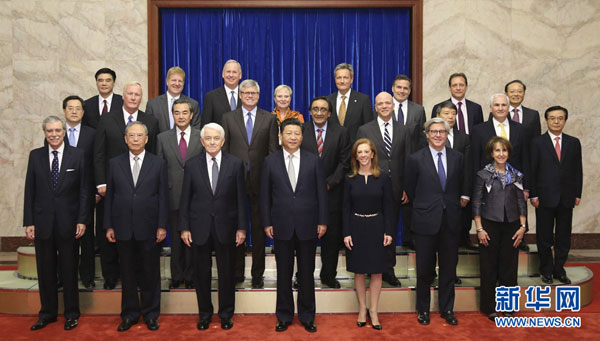 Chinese President Xi Jinping (front row, center) meets with a group of US business leaders and former US officials in Beijing, Sept.17, 2015.[Photo/Xinhua]
BEIJING - Pushing for earlier completion of their marathon talks on a Bilateral Investment Treaty (BIT), both China and the United States have placed high hopes on President Xi Jinping's Sept. 22-25 state visit for a breakthrough.
But, as stumbling blocks in the way are not easy to remove, painstaking efforts from the world's first and second largest economies are demanded to conclude the BIT talks at an earlier date, so as to benefit both countries and the global economy.
A TREATY OF MUTUAL BENEFIT
The two countries confirmed the BIT negotiations as "a top priority" in their economic relationship, hoping to further boost economic cooperation and achieve a win-win result through investment liberalization.
Officials and experts from both sides believe that a high-standard BIT will not only benefit the top two economies in terms of boosting mutual investment and job opportunities, but also conduce to the global economy.
Nathan Sheets, undersecretary for international affairs at the U.S. Treasury, stressed the benefits that U.S. investors will harvest. "Such an agreement could be a game changer in terms of unlocking new opportunities and leveling the playing field for U.S. firms and investors," he said in April.
"A high-standard BIT, with strong provisions for market openings and equal treatment, would greatly benefit the commercial relationship," U.S.-China Business Council President John Frisbie said two months later.
Geoffrey Sant, special counsel of Dorsey & Whitney LLP, spoke out his similar opinion in a recent interview with Xinhua.
"A BIT would be extremely beneficial to both nations by more closely intertwining the two nations' economies," he said. "Chinese investors in the United States will benefit from U.S. growth, and U.S. investors in China will benefit from Chinese growth."
Such a treaty will help address a number of investment concerns of the United States and China, and investors from both countries will get better access to each other's markets, said Yukon Huang, former World Bank's country director for China and senior associate with the Asia Program of the Carnegie Endowment for International Peace.
Li Daokui, director of Tsinghua University's Center for China in the World Economy, has seen some other advantages the treaty will bring about to the two countries.
China and the United States are complementary in many areas, especially in capital, Li told Xinhua recently.
The United States needs large capital for infrastructure construction so as to prompt its economic recovery, while China, with relatively abundant funds, has already become a net exporter of capital, he said. Also, the Chinese government has been following a strategy of "going out" to encourage firms to invest overseas.
On a broader scale, the China-U.S.relationship cries out for a stabilizer to address sensitive and complicated issues emerging in the development of bilateral ties, the Chinese economist said, adding that the BIT will serve as such a stabilizer in the future.