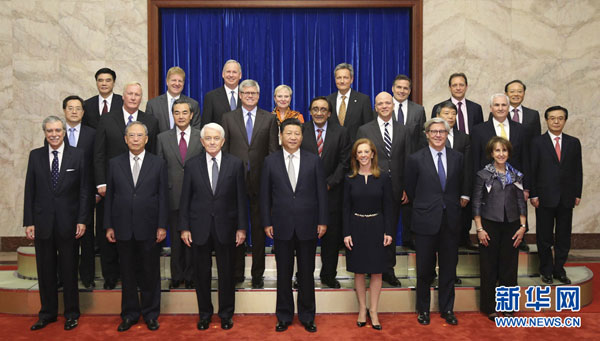 Chinese President Xi Jinping (front row, center) meets with a group of US business leaders and former US officials in Beijing, Sept.17, 2015.[Photo/Xinhua]
BEIJING - President Xi Jinping on Thursday said that China is committed to working with the United States to build a new type of major-power relationship.
If the goal can be achieved, it will be good for the people of China and the United States, as well as for world peace and development, said Xi when meeting with a group of US business leaders and former US officials.
While saying that China and the US share broad common interests, Xi acknowledged that there are some differences, too. Both sides, he said, must accommodate each other's core interests, avoid strategic miscalculation, and properly manage and control differences.
Xi said the slowdown of China's economic growth is the result of the country's development pattern transformation and economic restructuring.
"We will continue to deepen economic reform and ensure that the market will play a decisive role in allocating resources," he said.
He added the economy still has great potential and is capable of maintaining medium- to high-speed growth.
The president called on both sides to intensify macroeconomic policy coordination and work together to promote global economic growth.
He also suggested that trade and investment facilitation be pushed, and hoped the US business community would support China's reform and opening up.
Mentioning his upcoming state visit to the U.S, Xi said he was ready to have a profound exchange of views with President Barack Obama on major issues of common concern.
He hoped that the visit will deepen friendship between the two peoples, expand pragmatic cooperation and push forward the development of China-US ties.
The US representatives who addressed the meeting included Thomas Donohue, head of the US Chamber of Commerce; Tamara L. Lundgren, president, chief executive officer and director of Schnitzer Steel Industries Inc.; former US Commerce Secretary Carlos Gutierrez; and John Thornton, chairman of the Board of Trustees of the Brookings Institution.
The US business community is committed to enhancing bilateral economic and trade cooperation, and stands for an early conclusion of bilateral investment treaty, according to the representatives.
They lauded the role the Asian Infrastructure Investment Bank (AIIB) and China's Belt and Road Initiative would have to global economic development.