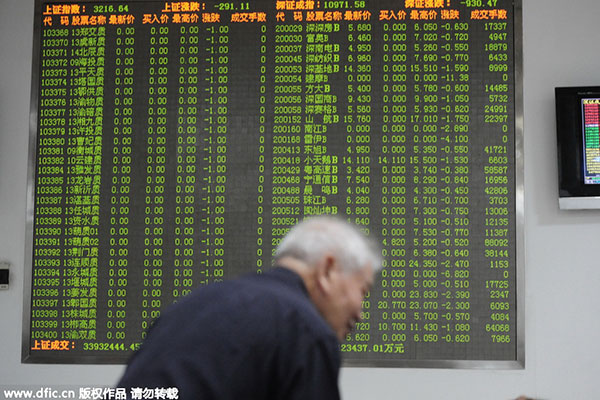 An investor stands in front of a screen displaying stock indices and prices of shares at a stock brokerage house in Jinan city, East China's Shandong province, Aug 24, 2015.[Photo/IC]
Global investors still in a shock over the about 40 percent drop in the Chinese stock market since mid-June may not understand the government's latest move, because it may not be enough to arrest the slide in share prices.
On Monday, the China Securities Regulatory Commission, Ministry of Finance, State-owned Assets Supervision and Administration Commission of the State Council and China Banking Regulatory Commission jointly issued a notice encouraging mergers, cash bonuses and share repurchase by listed companies.
Unlike previous government efforts such as interest rate cuts, cracking down on fabricated trading information and alleged malicious short selling, this move is not ostensibly aimed at restoring value to the stock market any time soon. But in terms of expediting the reform of State-owned Enterprises and promoting healthy development of the stock market, the move to increase cash dividends for Chinese shares was long overdue.
The Chinese stock market was established in the early 1990s to basically raise funds for domestic companies, especially SOEs, force listed companies to follow market rules and enable domestic investors to share the fruits of China's rapid economic growth. But the fact that listed companies have paid little cash dividends to shareholders has undermined the stock market's key role of pressing listed SOEs to improve their performance under shareholder pressure.
Worse, the lack of cash dividends has left Chinese investors no choice but to bet on the rise of share prices as the only way to get returns on their investments. As a result, few Chinese investors pay attention to performance of the listed companies and, instead, focus on the daily fluctuations in share prices, making the stock market even more speculative.
By urging listed companies to pay more cash dividends and buy back their shares to defend the long-term value of their shares, policymakers will help the stock market assume its role of rewarding SOEs that improve their performance through deeper reforms, domestic investors who believe in the healthy development of listed companies, as well as the Chinese economy at large.
It's reassuring to see policymakers press ahead with such much-needed long-term reform even during the time of a double whammy - broad economic slowdown and a steep drop in stock prices.
The fact that two factory activity indices released on Tuesday were at multi-year lows indicates the Chinese economy is still struggling to gather steam. But as long as policymakers can focus on implementing necessary long-term reform, there is a good chance that the Chinese economy will emerge out of the current difficulties in a better shape.