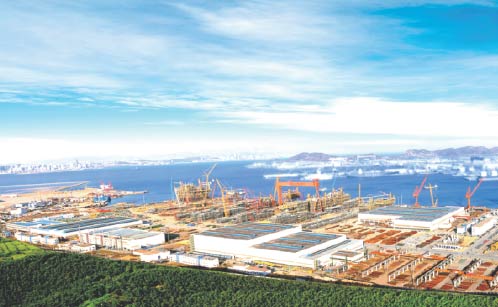 An offshore engineering site of COOEC in Qingdao, Shandong province. Headquartered in Tianjin, COOEC owns another two offshore engineering sites in Tanggu, Tianjin and Zhuhai in Guangdong province. The company's current operational area is around 1.42 million square meters and it plans to expand it to 2.07 million sq m by 2018. [Photo/Agencies]
India's intention to once again explore for oil in the disputed waters of the South China Sea is an unwise move, as it will further complicate the maritime disputes and do a disservice to maintaining the positive momentum that has been achieved in China-India ties.
According to media reports, India's state-owned Oil and Natural Gas Corporation plans to restart exploration activities in the waters off Vietnam's coastline that are also claimed by China. The Indian company should be told: Without the permission from the Chinese government, activities conducted by any foreign company in these disputed waters are illegal.
New Delhi may deem its oil exploration activities in the South China Sea purely economic in nature. But, considering the already existing tensions in the South China Sea, New Delhi's move will only aggravate the situation.
What's more, the meddling of outside forces, such as the United States, in the maritime disputes in these waters has already disrupted regional efforts to resolve them peacefully.
More involvement of any nature from non-claimant parties in the disputes will be anything but helpful to upholding the regional consensus of resolving the issues through negotiations.
As a country near the disputed waters, India should respect and support the efforts of the countries involved to resolve their disputes through bilateral channels, as it too has a stake in peace and stability in the waters.
In fact, since India began to covet oil reserves in the disputed waters in recent years and has sought to cooperate with Vietnam to extract them, the issue has been looming over the generally stable and improving relations between China and India.
Both Beijing and New Delhi have devoted a lot of efforts, especially at the highest-level, to improve their meaningful interaction and keep their differences at bay. Both countries should be aware that it is in their mutual interests to continue to propel the current desirable momentum in bilateral ties.
They should not entertain any doubt that they have everything to gain by deepening cooperation in areas they are both interested in. And they should avoid taking missteps that may sabotage the good development of their ties.
As such, it is hoped New Delhi will give due consideration to peace and stability in the already troubled waters and the overall picture of China-India ties, and rethink its oil exploration activities in the South China Sea.