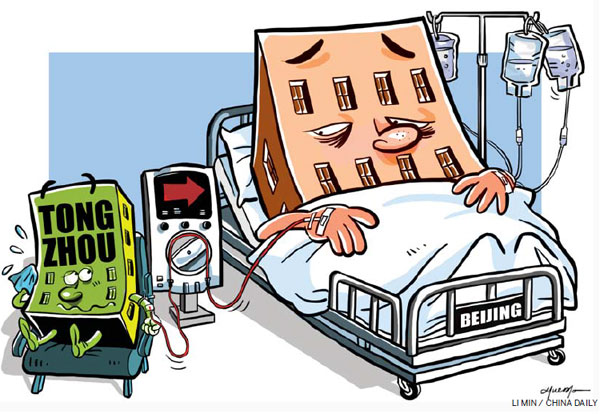 What is the focus of the coordinated development plan for Beijing, Tianjin and Hebei province and what are the guiding principles? What are the implications of the implementation of this development plan in the near future? An interview with a leader of the office under the central government's leading group for this strategy published by Xinhua News Agency on Sunday shed some light on these questions.
Why is coordinated development being emphasized? It is because the metropolises of Beijing and Tianjin and adjacent Hebei province have become too uncoordinated and unbalanced in terms of their economic development and social progress over the past more than three decades.
No matter how developed and modern Beijing is as the capital, it is no secret that its development has been accompanied by ills such as traffic congestion, too large a population, too high housing prices, serious air pollution caused by car exhaust emissions and industrial pollution from adjacent areas. Tianjin likewise.
However, Hebei has long been one of the most underdeveloped provinces in the country. Despite its lack of resources of water and energy, it produces a large percentage of the country's iron and cement, which has resulted in the province being plagued by serious pollution.
The coordinated development plan is meant to relocate the non-essential functions of Beijing as national capital to Hebei. It will not just make it easier for Beijing to cure its own ills. It will also help upgrade or replace the low-end industries in Hebei province.
At the same time, its extensive consumption of energy will be considerably reduced along with the pollution.
As a result, Hebei's economy will hopefully see a great leap forward and so will its social progress.
In an attempt to cure the ills of Beijing and improve the industrial structure of Tainjin and Hebei, new areas for economic growth will have to be cultivated, which will inject vitality into the country's somewhat sluggish economy. And at the same time, the industrial structure of Hebei province will be greatly upgraded. It is a single stone that can kill two birds.
Also, if the strategy is successfully implemented, the rest of the country can follow suit. In this way, China's development that has long been unbalanced among different regions will become more equal and so will the social progress in different regions.
In this sense, the importance of this plan can never be overestimated.