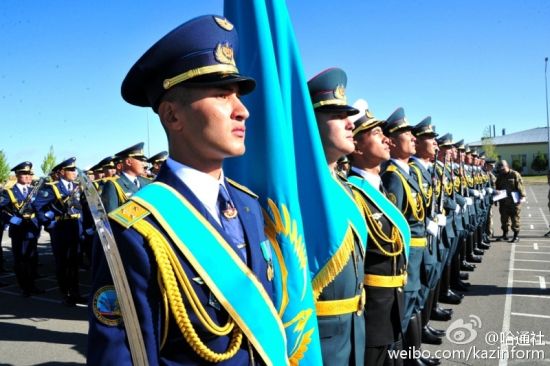 Kazakhstan's guard of honor is leaving for Beijing to participate a military parade to mark the 70th anniversary of victory in the War of Resistance against Japanese Aggression, Aug 16, 2015. [Photo/People.cn]
The attendance of Republic of Korea President Park Geun-hye at China's celebrations to mark the 70th anniversary of the victory of the Chinese People's War of Resistance Against Japanese Aggression, which was confirmed on Thursday, sends the message that Beijing and Seoul stand on the same ground when it comes to historical issues.
According to the ROK presidential office, Park will attend the celebratory activities on Sept 3, although she has not yet decided whether she will attend the military parade that will take place the same day.
The leaders of all the other member states of the Shanghai Cooperation Organization - Kazakhstan, Kyrgyzstan, Russia, Tajikistan and Uzbekistan - have also confirmed their attendance at the events in Beijing.
The commemorative events, including the military parade, are designed to remember the victory against fascism and celebrate peace.
Seventy years after the end of World War II, the world is still not free from armed conflicts and wars. This shows strenuous and concerted efforts need to be made to build peace and maintain stability worldwide.
In Northeast Asia, due to Japan's repeated denials of its war atrocities, reconciliation between the former warring parties remains a luxury, and the prospect of all countries joining hands for common development and prosperity without bearing grudges is still a pipe dream.
Both Beijing and Seoul deem Japanese Prime Minister Shinzo Abe's statement issued on Friday to mark the 70th anniversary of the end of WWII unsatisfactory. Park said Japan needs to back its words with deeds on historical issues, while Hua Chunying, China's Foreign Ministry spokesperson, urged Japan to make sincere apologies for its military past.
On historical issues, Beijing and Seoul are in the same camp. Yet both countries have repeatedly said they are willing to improve ties with Japan as long as it squarely faces up to its history of aggression, which is clear proof of how much they value regional development and integration.
Next month's V-Day commemorations could have been a historic opportunity for China, the ROK and Japan, the major players in Northeast Asia, to reflect on those days and look forward to forging a better future together.
At this stage, regrettable as it seems, there is little chance of this desirable picture becoming a reality, because for the region to lay down the burden of history and step forward together, Japan needs to address its self-serving shortsightedness toward history.