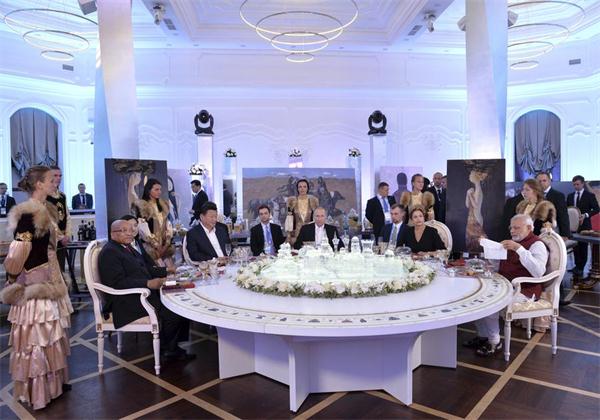 (R-L) India's Prime Minister Narendra Modi, Brazil's President Dilma Rousseff, Russia's President Vladimir Putin, China's President Xi Jinping and South Africa's President Jacob Zuma sit around a table during an informal dinner for the leaders of BRICS countries in Ufa, Russia, July 8, 2015. [Photo/Agencies]
The seventh BRICS summit, which began in the Russian city of Ufa on Wednesday, is expected to strengthen the bilateral and multilateral partnerships and help the bloc make further contributions to world economic development.
The summit of the five dynamic emerging economies - Brazil, Russia, India, China and South Africa - comes at a crucial moment, as the global economic recovery stutters and the Greece debt crisis unfolds.
The rest of the world looks to the bloc for positive signals that will help build confidence to meet the global challenges, because BRICS member states are committed to working together to build a community of shared destiny and shared benefits.
The Ufa summit is expected to provide some important answers as to how the bloc looks to consolidate inter-BRICS cooperation and agree on other major issues of regional and global concern, such as reform of the global financial system.
One day before the summit, the board of governors of the BRICS New Development Bank held its first meeting in Moscow, where governors of the central banks of the member countries signed an operating agreement on a Contingent Reserve Arrangement. The NDB and the CRA, each with an initial authorized capital of $100 billion, approved at last year's summit, will infuse added dynamism to the cooperation among BRICS countries and set an example for South-South cooperation.
Since its establishment in 2009 the fledging bloc has become an indispensable force propelling the global economic recovery. Statistics from the International Monetary Fund show the contribution of BRICS members to the global economic growth over the past decade has exceeded 50 percent. Also, the IMF estimates that by 2030 BRICS economic growth will be higher than that of developed countries and other emerging economies.
True, the BRICS economies have encountered difficulties and setbacks in recent years, but they are periodic rather than structural in nature, as their economic slowdown can be attributed mainly to the deteriorating global economic environment. All the five countries are restructuring their economies and fine-tuning macroeconomic policies to make growth more balanced and sustainable, and the Ufa summit will show the world their confidence and determination to deal with economic matters.
Given these facts, the world economy stands to gain if BRICS members coordinate their development strategies.