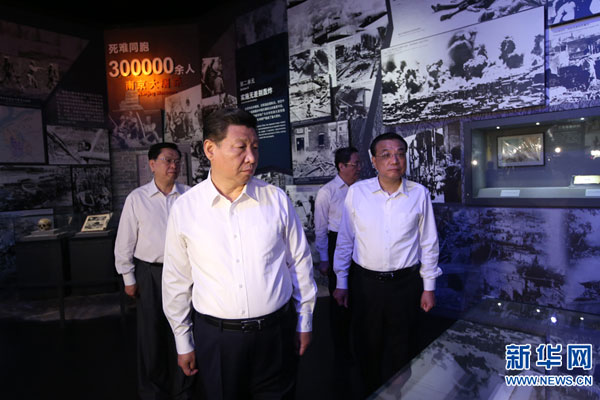 Top state leaders Xi Jinping (2nd L) and Li Keqiang (R) visit an exhibition commemorating the 70th anniversary of the victory of the Chinese People's War of Resistance against Japanese Aggression, at a museum near Lugou Bridge, also known as Marco Polo Bridge, where the war broke out in 1937, in Beijing, July 7, 2015. [Photo/Xinhua]
An exhibition on the Chinese People's War of Resistance Against Japanese Aggression opened in Beijing on Tuesday, the anniversary of the Marco Polo Bridge Incident in 1937, which led to Japan's full-scale aggression of China.
The exhibition is the start of many commemorative activities for the 70th anniversary of China's victory in the war.
To not forget the misery the Japanese aggressors inflicted on this nation and its people is only part of what these activities are meant to achieve. As President Xi Jinping stressed on Tuesday, while visiting the exhibition, "remembering history is for eyeing the future".
The commemorations can also serve to remind China's neighbors, those that were involved in the war in particular, that such a tragedy should not be repeated.
For some Japanese individuals, the message they receive may be the humiliation of their nation after its defeat in the war. But that is not the intent. Instead, the commemorations should be understood as reflecting the urgency for Japan to seek real reconciliation with the countries it once victimized.
The need for reconciliation after a seven decade-old war may sound anachronistic. Yet, given the stubbornness with which Japanese right-wing politicians have sought to whitewash, if not defend, their country's role in the war over the years, a rapprochement between Japan and its Asian neighbors has remained elusive.
However, amicability in regional relations can be achieved only if the war of aggression Japanese militarists launched against its neighbors more than seven decades ago ceases to be an obstacle.
The ball is in Japan's court. It can only win its neighbors' trust by demonstrating its sincerity to work with them to maintain regional peace, not by remaining evasive about its past atrocities and present obligations.
All the commemorative activities China will hold, including a scheduled military parade on Sept 3, should not be viewed simply as a show of force and weapons; instead they are a reminder of how much China treasures that historical victory.
China certainly values its capability to defend itself, but it looks forward to reconciliation with Japan at the same time. Because China understands that no victory of war can be more important and glorious than winning a lasting peace. If real reconciliation can be achieved even 70 years later, it won't be too late.