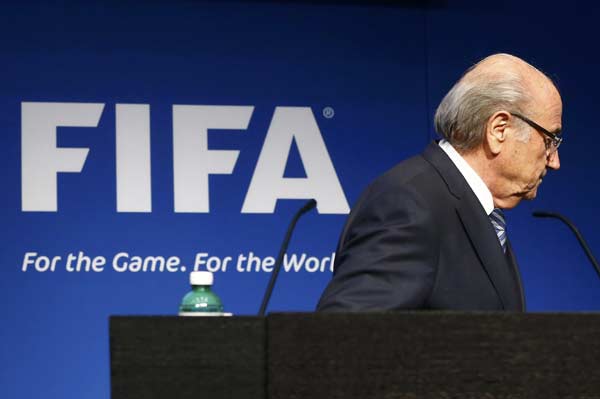 FIFA President Sepp Blatter leaves after his statement during a news conference at the FIFA headquarters in Zurich, Switzerland, June 2, 2015. [Photo/Agencies]
FIFA needs an overhaul, Sepp Blatter said in his resignation speech on Tuesday, just four days after his reelection as president of the world football governing body. The scandals that have haunted FIFA during his tenure have finally come home to roost with the controversial detention of six of its high-level officials last week.
But what Blatter has contributed to the development of the sport worldwide should not be denied.
When he took over, FIFA was facing financial difficulties. He helped turn it into a money-spinning operation, which made $5.7 billion between 2010 and 2014. The fact that the number of TV viewers of the sport has been on the rise, especially during World Cup games, is testament to FIFA's transformation during the 17 years of his leadership.
However, the more popular the sport has become, the more money it has attracted and the more temptation for those presented with the opportunity to claim an extra piece of the pie.
Blatter said in his resignation speech that the executive committee included representatives of confederations for whose actions FIFA is being held responsible, but over which it had no control. This points to the structural problems FIFA has and to the space in which corruption has flourished.
Blatter must have been concerned because he noted that integrity checks for all executive committee members must be organized through FIFA and not through the confederations. He claims he fought for these changes but his efforts had been ineffective because of vehement opposition.
Watching many talented soccer players do their best to entertain and fulfil the hopes of their fans, it is distressing to associate the world's most popular sport with the under-the-table deals from which some FIFA officials are accused of having grabbed dirty money.
With the FBI extending its long arm for alleged wrongdoings of FIFA officials in the United States, which is now being accompanied by a Swiss investigation into the bidding process for the next two World Cups, the secrecy that has obscured the organization has started to be unveiled. If confirmed, one way or another within the sphere of law, the bribe takers should not be spared the punishments they deserve.
At the end of his speech, Blatter said: "What matters to me more than anything is that when all of this is over, football is the winner." This is the hope of billions who love this sport.