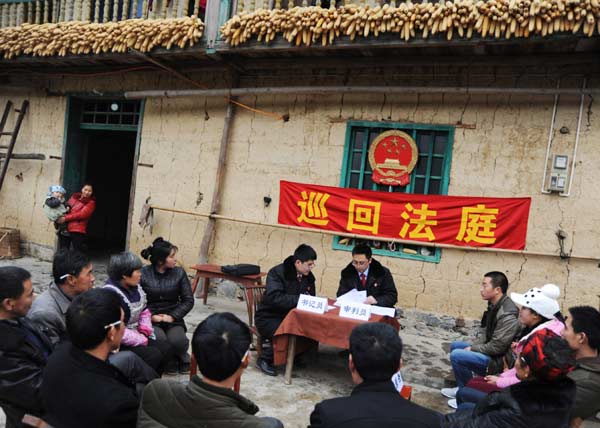 Two judges from a court in Fengjie county, Chongqing, resolve civil disputes among villagers in Taoyuan in March. Such circuit courts have been set up to improve efficiency. RAO GUOJUN/CHINA DAILY
"If the leading officials of courts are on the lists of judges or prosecutors, they must do their duty by judging cases or making public prosecutions," said Meng Jianzhu, head of the Commission for Political and Legal Affairs of the Communist Party of China Central Committee, at a recent conference. He was blaming the leading officials of certain local courts, who, in the ongoing judicial reform that sets a percentage limit on judges among the court staff, list themselves as judges. Comments:
In past reform of State-owned enterprises, it was the workers that suffered and got laid off, while the officials stayed in positions without their interests harmed; the ongoing judicial reform cannot afford to repeat that mistake and that's why the top leadership has intervened. The reform should not always come at the price of poor working people, and the interests of officials at various levels must be challenged or it will lead to failure.
He Fan, a judge at the Supreme People's Court, May 6
The reform has not only limited the number of judges and prosecutors and freed them from heavy administrative work, it has also recruited ample assistants for them during cases. Now, with sufficient energy and professional helpers, they can play a bigger role in court rulings, which used to be dominated by officials.
You Wei, a professor at East China Normal University, April 21
One of the purposes of the reform is to absorb more fresh blood into the teams of judges and prosecutors. That's why we leave some vacancies in practice for the best younger judges and prosecutors; only when the young members, not the officials, see hope, can we do our jobs better as a team.
Jiang Ping, head of the Commission for Political and Legal Affairs of the Party in Shanghai, April 29