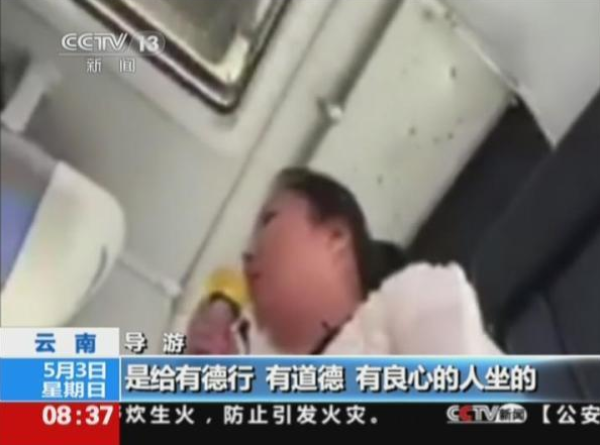 A CCTV screenshot shows Chen Chunyan vervally abusing visitors on the tour bus.
Are tour guides also poor workers who need protecting? That is a question that needs more discussion, especially on Workers' Day.
A video showing a female tour guide in Xishuangbanna of Yunnan province demanding tourists spend at least 3,000 ($480) on shopping at places where she received kickbacks has caused a stir online. She requested the "ungrateful and immoral" tourists, who spent little, to think of her family burden as she accompanied the tourists four days without a break. After the video about the tour guide aroused an online uproar, the National Tourism Administration on Sunday urged the Yunnan authorities to probe into this case and strengthen regulation.
For a long time, tour guides have being making headlines for coercing tourists to go shopping or spending extra money at tourist sites, despite the Tourism Law that came into effect in 2013 which bans such practices.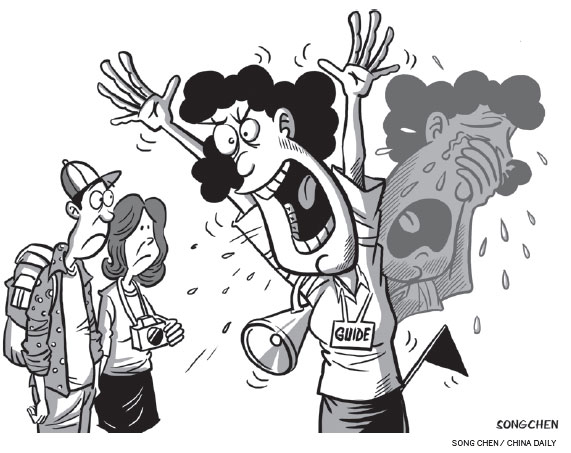 No doubt the Yunnan tour guide will be held accountable if she truly bullied and humiliated her tourists. But while the tourism watchdogs should fully protect tourists' interests by keeping a close eye on travel agencies and tour guides, the society should also consider the other side of the coin.
Official figures show 3.61 billion domestic trips were made in 2014, a 10.7 percent increase compared with 2013. And an estimated more than 22,000 travel agencies joined the already fierce competition for the domestic market.
To attract clients some tour agencies offer cheap trips, but they cut their costs by refusing to sign labor contracts with tour guides. Most tour guides, who are denied social security or salaries, have to pay travel agencies "guarantee fees" and "team money" to gain the opportunity to be a tour leader. No wonder tour guides have to rely on tourists' shopping commission to keep their own pots boiling. But this strains ties between guides and their tourists, as shown by the caution "be alert to fires, thieves and tour guides" among tourists in many regions.
A tour guide named Xiao Mi in Zhangjiajie of Hunan province was recently quoted by the China Travel Newspaper as saying: "It's a common belief that tourists are weak groups. In fact most tour guides abide by law, but sometimes they are scolded, beaten up and even sexually abused by tourists. Who will protect us?" Under such circumstance, tour guides are easy to be tired of their jobs because of low pay, high stress, long separation from family members, as well as disrespect from some tourists, according to an academic survey based in Wuhan of Hubei province last September.
It is time for the authorities to do more to gradually eradicate the root cause of the chaos in the tourism market. This May Day holiday, the tourism authorities fired the first shot on the ultra-low priced trips to curb coerced shopping, but they need to move to safeguard tour guides' rights as ordinary workers, as this will help both the guides and tourists.
The author is an editor with China Daily.
zhuping@chinadaily.com.cn