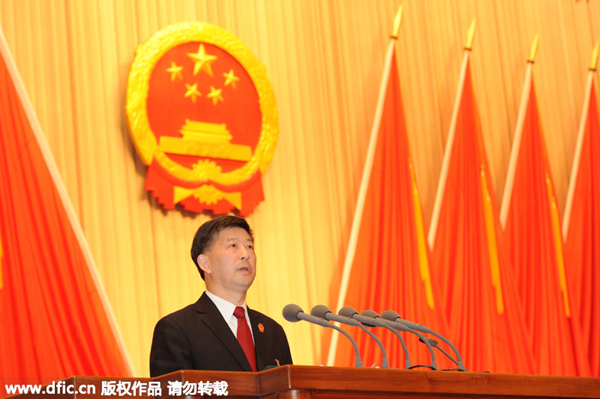 Cui Yadong, president of the Shanghai municipal higher people's court. [Photo/IC]
A total of 113 judges from Shanghai courts whose spouses or children are lawyers have quit the frontline positions such as trial and enforcement, Southern Metropolis Daily quoted Cui Yadong, president of the Shanghai municipal higher people's court, as saying.
This is one of the reforms carried out in Shanghai courts during this round of judicial reforms.
The basic idea of reform lies in solving deep-seated problems that affect judicial justice and restrict judicial capacity, Cui said.
"Judicial officials are divided into judges, assistant personnel for judicial work and administrative staff in Shanghai," Cui said, "There is a transitional period to lower the proportion of judges from 49 percent to 33 percent."
"Shanghai tries to establish the county's first exit mechanism for judges", Cui said, "Judges will be evaluated each year on several aspects, such as handling cases and observing laws and disciplines."
"If the judge made fatal errors, he or she would be punished by party discipline and laws, and if the judge didn't work hard or disqualified the evaluation, he or she would no longer be judges," Cui added.
Shanghai has used all means of information to make unimpeded channels and transparent courts.
"Ten open information platforms, including the Internet, apps and a hotline have been taken in to use in Shanghai," Cui said.
"We also tired hard to solve the problem of not accepting cases or placing restrictions on accepting cases at the end of year," Cui said. "In December of 2013, 10,000 more cases had been accepted by all Shanghai courts compared with the corresponding period in 2012."