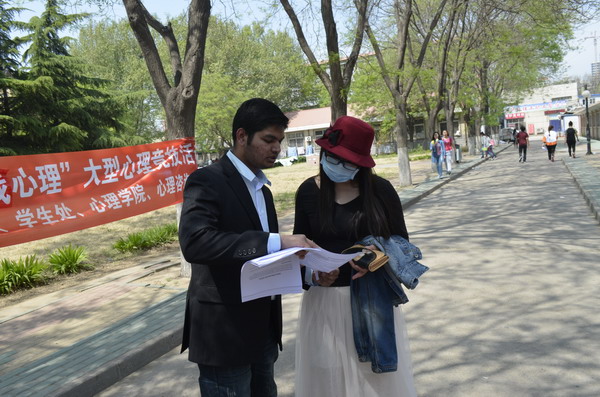 A volunteer advertises the information about malaria to a student during the World Malaria Day in Tangshan city of North China's Hebei province, 25 April, 2015.[Photo provided to China Daily] 
World Malaria Day was celebrated in Tangshan, Hebei province on Saturday. The disease remains one of the top killers in Africa, especially for children below the age of 5.  
Awareness is as big an issue in China as in many parts of Africa.  To help raise awareness about the causes, prevention and treatment of malaria, I organized stalls at Hubei Ligong University in Tangshan where I study and other nearby high schools.
We had about 20 students from several schools participate. I had announced a week earlier that we would have a sign competition and a friend searched data for malaria and we printed pamphlets in English as well as translating them into Chinese so that people could learn about the disease.
The university union's president and vice president also joined us and their photo taken with me and other department members. We showed China that although we're foreign we're from same world. We'll be in the front row to fight against any disease because as medical students and it's our first duty to serve the nation.
We camped with a Malaria Day board and distributed pamphlets to everyone, especially students because they are the future. We provided small pages for them to write good wishes for those infected with malaria.
We explained this to everyone, many of whom didn't speak English so it was my work to interpret the massage into Chinese, it was a great experience.
We prayed for infected people to regain good health. We might belong to Pakistan, India, Nepal, Bangladesh and other countries but we're together against any kind of problem. We're ready to face it for our friends for our brothers and sisters.
Overall, we had an amazing day, were successful in raising malaria awareness and I got to bond with many students. Now, I wasn't completely selfless. It's my dream to serve others as a doctor as a volunteer.
I want to say thanks to IEC and my department's minister and vice minister who gave me spirit and worked with me.
I lived many years being selfish but now say to others by love serve we one another.