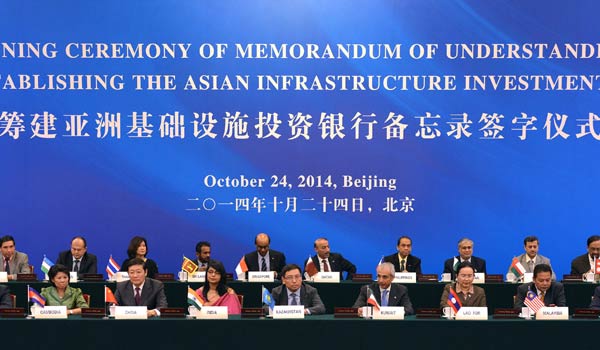 The signing ceremony of memorandum of understanding on establishing the Asian Infrastructure Investment Bank (AIIB) is held in Beijing, Oct 24 2014. [Photo/Xinhua]
In an interview with Lionel Barber, editor of the Financial Times, on March 31, Premier Li Keqiang stressed that the Asian Infrastructure Investment Bank can work in parallel with the Asian Development Bank to promote development in the region. Li said the AIIB is not meant to reinvent the wheel.
Li's remarks, published on Wednesday, should drive home the message that China has no intention of challenging the current international financial system, but rather it wants to contribute to its healthy development.
Since the idea of the AIIB was first proposed by China in October 2013, there have been some concerns and skepticism in the world arena. Its critics have claimed the bank is designed to compete with current international lenders such as the Asian Development Bank and the World Bank.
Premier Li's assurance, together with the endorsement of 57 countries as founding members, turn such accusations pale and thin.
The AIIB's popularity across the world owes much to the common belief that it will be an open and inclusive multilateral lender, which promises win-win interactions in the global arena.
China has reiterated that the fundamental mandate of the bank is to invest in infrastructure projects in Asia, so as to promote regional interconnectivity and strengthen the development capabilities of Asian countries.
The birth of the AIIB conforms to the trends of the times and constitutes a timely response to the current global economic landscape.
As Li pointed out in his interview, there is a large funding shortfall for infrastructure development in Asia, especially in connectivity building. But due to system limitations, the current international lenders cannot meet the tremendous demand.
Only with the support of several multilateral financing institutions can this shortfall be met and people in Asian countries be provided with access to the better infrastructure they need.
The AIIB thus ushers in a new perspective for its stakeholders to better benefit from Asia's development and build a future of common development with countries in the region.
As a country that has built much of its economic achievements on the post-war international order, China strongly believes the pursuit of mutual benefit makes all winners, and it is ready to put such faith into practice through such an initiative as the AIIB.